Zero Turn Mowers
Proudly serving Marlborough & Framingham MA for over 75 years
---
IS® 600Z Zero Turn Mower 44" (5901699)
Call store for pricing or click here to contact us.
The best budget zero turn for landscapers...
Featuring our patented suspension technology, heavy-duty Hydro-Gear® Drive System and speeds up to 10 mph, this mower will give you all you're looking for and more. The IS® 600Z is capable of tackling tight places, providing maximum maneuverability and productivity.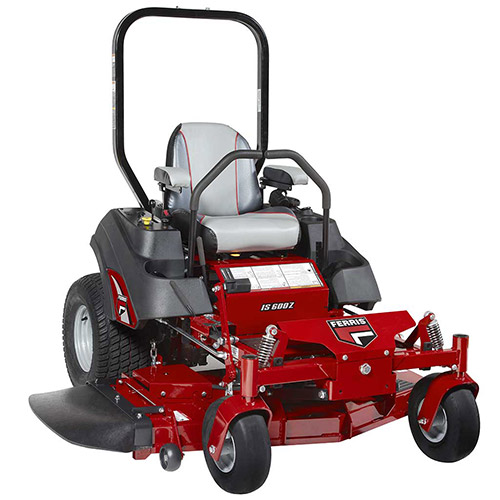 Overview:
Debris Management
Briggs & Stratton® Commercial Series engines are built with the ultimate in dust and particle filtration, an advanced debris management system and beefed-up cylinder block structure.
Operator Convenience
Ergonomic riding mower control panel features cup-holder and fuel gauge.
Patented Suspension
Suspension system consists of rear coil-over-shocks and pivoting front axle with shocks.
Ride-On Mower Warranties
Coil-Over-Shocks and all suspension-related components are covered for 5 years (60 months), for unlimited hours. We are committed to providing performance, productivity and durability.
Exceptional Performance
Patent-pending steering system delivers exceptionally smooth performance.
Integrated Transmissions
Commercial Hydro-Gear® ZT-3200® transaxles are designed for high performance and are fully serviceable.
Easy Access
Quick removal of the floor pan provides convenient access to the top of the deck for easy cleaning and service.
Protection
Heavy-duty bumper protects the engine while also allowing for easy service access.
Smooth Controls
Smooth, precision controls last longer as a result of pillow block bearings on control mounts.
Mower Spindles
Cast-aluminum greaseable spindles feature 1" shaft with 2.5" x 1" dual ball bearings with top access grease fittings and pressure relief valve.
Cut Height
Foot-operated deck lift, with adjustable pedal, can change cut height in 1/4" increments from 1.5"- 4.5".
Acres Per Hour
Mows up to 4 acres per hour, based on 80% efficiency.
Miles Per Hour
Ground speed is up to 10 mph (48") and 8 mph (44"), reverse 4 mph.
Specifications:
| | |
| --- | --- |
| Engine Brand | Briggs & Stratton® Commercial Series |
| Displacement (cc) | 724 |
| Cylinders | 2 |
| Fuel Tank Capacity (gal) | 5.5 |
| Cutting Height (in) | 1.5 - 4.5 |
| Deck Construction | 10-guage fabricated |
| Transmission | Dual commercial Hydro-Gear® ZT-3200® transaxles with 7" cooling fans |
| Caster Tires (in) | 11 X 4-5 |
| Ground Speed-Fwd (mph) | 0-10 |
| Overall Length (in) | 80 |
| Dry Weight (lbs) | 922 |
| Instrumentation/Hour Meter | Engine and PTO hour meter |
| Controls / Safety Group | Adjustable twin fold out 1" tubular steering levers with comfort grip |
| Warranty (Engine) | 3-Year Manufacturer's Limited Warranty (36 month) |
| | |
| --- | --- |
| Engine Power Rating | 25.0 |
| PTO | Electric |
| Starter | Electric |
| Cutting Width (in) | 44 |
| Spindles | Aluminum |
| Suspension | Front and rear adjustable dual coil-over shocks |
| Drive Axles (in) | 1.125 |
| Drive Tires (in) | 20 x 8-10 |
| Ground Speed-Rev (mph) | 0-5 |
| Overall Width (in) Deflector Down/Deflector Up | 59/47 |
| Seat Package | Contour seat |
| Certified Roll-over Protection System | Standard, retractable seatbelt |
| Parking Brake / Safety Circuit | Internal transaxles |
| Warranty (Balance of Machine) | 4-Year limited warranty (48 months) or 500 hours, whichever occurs first. Unlimited hours during the first 2 years (24 months). Coil-over-shocks and all suspension related components are covered for 5 years (60 months) unlimited hours. Coverage on other components varies. |