Zero Turn Mowers
ISX™ 800 Zero Turn Mower 61" (5901791)
Call store for pricing or click here to contact us.
Affordable commercial zero turn with next generation Ferris suspension technology...
Featuring the next generation of Ferris suspension technology – ForeFront™ Suspension, a 2-belt iCD™ cutting system, heavy-duty Hydro-Gear® drive system and travel speeds up to 10 mph, the ISX™ 800 is engineered to increase efficiency and operator comfort.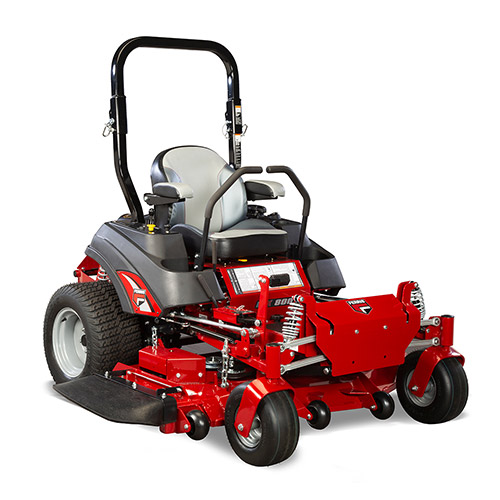 Overview:
ForeFront™ Suspension System
The system utilizes four upper and lower control rods that ensure the front caster bearing remains vertical through the full range of travel. This controlled motion results in a smoother ride, more precise tracing of the terrain and an improved cut.
Ride-On Mower Warranties
Coil-Over-Shocks and all suspension-related components are covered for 5 years (60 months), for unlimited hours. We are committed to providing performance, productivity and durability.
Integrated Transmission
Commercial Hydro-Gear® ZT-3400™ transaxles are designed for high performance and are fully serviceable.
Easy Access
Quick removal of the floor pan provides convenient access to the top of the deck for easy cleaning and service.
iCD™ Cutting System
iCD™ Cutting System was engineered to produce the best possible cut in a multitude of conditions. The ISX™ 800 is equipped with a 2-belt deck and provides a 3-year belt limited warranty.
Mower Spindles
Cast-aluminum greaseable spindles feature 1" shaft with 2.5" x 1" dual ball bearings with top access grease fittings and pressure relief valve.
Acres per Hour
Mows up to 5 acres per hour, based on 80% efficiency.
Miles per Hour
Up to 10 MPH ground speed, reverse 6 MPH.
Specifications:
| | |
| --- | --- |
| Engine Brand | Briggs & Stratton® Commercial Series |
| Displacement (cc) | 810 |
| Cylinders | 2 |
| Fuel Tank Capacity (gal) | 5.5 |
| Cutting Height (in) | 1.5 - 5 |
| Suspension | ForeFront™ Suspension System - Front independent with four steel control rods for the ultimate in comfort and control |
| Drive Axles (in) | 1.125 |
| Drive Tires (in) | 23 x 10.5 - 12 |
| Ground Speed-Rev (mph) | 0-5 |
| Overall Width (in) Deflector Down/Deflector Up | 75/63.5 |
| Seat Package | Premium adjustable seat with arm rests |
| Controls / Safety Group | Seat activated engine kill, clutch safety switch, neutral and parking brake safety circuit/adjustable twin steering controls |
| Warranty (Balance of Machine) | 4-Year Limited Warranty (48 months) or 500 hours, whichever occurs first. Unlimited hours during the first 2 years (24 months). Coil-over-shocks and all suspension related components are covered for 5 years (60 months) unlimited hours. Coverage on other components varies. |
| | |
| --- | --- |
| Engine Power Rating | 27.0 |
| PTO | Electric |
| Starter | Electric |
| Cutting Width (in) | 61 |
| Deck Construction | iCD™ Cutting System |
| Transmission | Dual, commercial Hydro-Gear ZT-3400® |
| Caster Tires (in) | 13 x 6.5 - 6 |
| Ground Speed-Fwd (mph) | 0-10 |
| Overall Length (in) | 83.125 |
| Dry Weight (lbs) | 1197 |
| Certified Roll-over Protection System | Standard, 180° foldable |
| Parking Brake / Safety Circuit | Internal Transaxles |