Ride-On Spreaders
Proudly serving Marlborough & Framingham MA for over 75 years
---
Rover XC™ FS1200 Ride-On Spreader (5901751)
Call store for pricing or click here to contact us.
Cover over one acre between fill ups...
The Rover XC™ FS1200 is a rugged ride-on spreader, perfect for applications that don't require liquid application. A low center of gravity provides excellent performance on sloped terrain. A 100% stainless steel frame and coated Peerless transaxle resist corrosive granular chemicals for added life. Its narrow width of only 35.5" allows for easy access through gates for residential areas and condominium complexes.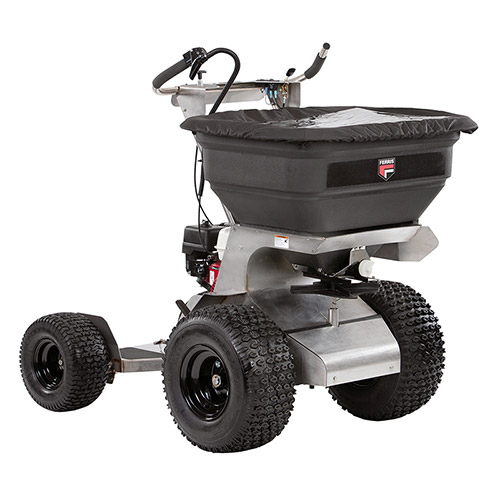 Overview:
200 lbs. Spyker Hopper
The Rover FS1200 hopper will handle up to 200 lbs. of granular material providing over one acre of maximum coverage.
100% Stainless Steel Frame
Stainless steel resists corrosion from the granular chemicals distributed by the unit.
Best-in-Class Maneuverability
A low-friction sulky pivots on a 3/4" tapered roller bearing for smooth movement. No mechanical steering assistance is required.
Ergonomic Controls
Simple, well-placed controls with dry pattern and throttle on the right. Spreader gain and gate control are on the left.
Compact Size
The Rover XC® FS1200 fits easily through a 36" gate, providing access to residential areas and condominium common areas.
Specifications:
| | |
| --- | --- |
| Engine Model | FX160-URH2 |
| Fuel Capacity - gal (L) | 0.82 gal (3.1 L) |
| Fuel Shut-Off Valve | Located on engine |
| Speed | Low Gear: 3.5 mph (5.6 km/hr) High Gear: 5.0 mph (8.0 km/hr) |
| Rear Tires | 13" x 6.50 - 6 |
| Spreader Hopper Capacity (lbs.) | 200 |
| Overall Width - in. (cm) | 35.5 (90) |
| Dry Weight - lbs (kg) | 330 (150) |
| Charging System | N/A |
| Safety Interlock | This machine is equipped with a neutral safety start module. To start the engine, the transmission must be in the neutral (N) position. |
| Belts, Tires, Brake Pads, Hoses, Battery Warranty | Standard: 90 days Rental: 90 days |
| | |
| --- | --- |
| RPM | Full Speed: 3750 RPM (No Load) Idle: 1400 RPM |
| Fuel Type | Regular unleaded gasoline, 87 octane or higher |
| Transmission Model | Peerless 855 Series, coated for corrosion resistance |
| Front Tires | 18" x 9.5 - 8, RV antifreeze added for ballast and traction |
| Spreader Model | Spyker 220 Series |
| Overall Length - in. (cm) | 54.0 (137) |
| Overall Height - in. (cm) | 49.0 (124) |
| Full Weight - lbs (kg) | 550 (249) |
| Charging Capacity | N/A |
| Spreader Warranty | Standard: 1 year Rental: 90 days |
| Accessories Warranty | Standard: 1 year Rental: 90 days |