Soft Ride Stand-On (SRS™) Mowers
Proudly serving Marlborough & Framingham MA for over 75 years
---
Soft Ride Stand-On (SRS™) Z2 Mower 61" (5901679)
Call store for pricing or click here to contact us.
A combination of speed, agility and high quality of cut...
The Soft Ride Stand-On SRS™ Z2 raises the bar with our adjustable operator platform, which features suspension technology that optimizes operator comfort and increases productivity! The superior balance provides stability and maneuverability that exceeds expectations for traction and handling.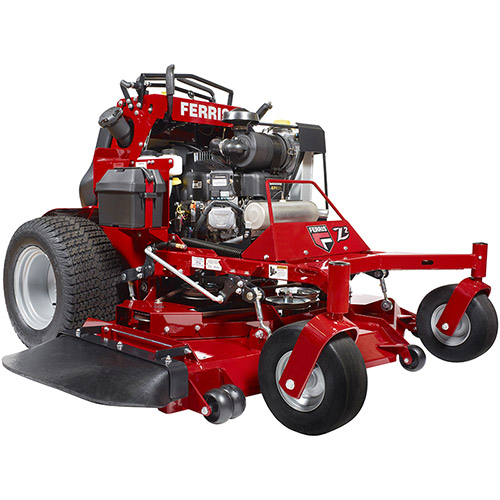 Overview:
500 Hour Oil Change
Vanguard™ Engines with Oil Guard System reduce maintenance time and costs by up to 60%.
Ride-On Mower Warranties
Coil-Over-Shocks and all suspension-related components are covered for 5 years (60 months), for unlimited hours. We are committed to providing performance, productivity and durability.
Fuel Capacity
Generous 8-gallon fuel tank is centrally located for consistent balance, and the fuel filler neck is conveniently located on the side for easy filling.
Vanguard™ 810cc EFI engines
Vanguard™ 810cc engines deliver the optimum power, performance and efficiency commercial zero-turn mowers need.
Speed Control Setting
The easy locking 3-position speed control setting is conveniently located and requires no tools to facilitate smooth operation in a wide range of conditions.
Suspension Platform System
The suspension platform system is adjustable for a large range of weights and operating conditions, optimizing operator comfort and increasing productivity.
Standing Comfort
Ergonomically designed thigh pad provides superior operator comfort, especially on hilly terrain.
Acres Per Hour
Mows up to 5 acres per hour, based on 80% efficiency.
Adjustable Height of Cut
Height of cut is easily changed from the operator compartment for no hassle curb climbing and trailer loading. The hand-operated deck lift can change cut height in 1/4" increments from 1.75"- 5".
Integrated Mowing Transmissions
Commercial Hydro-Gear® ZT-3400® transaxles are designed for high performance and are fully serviceable.
Speed
Up to 10 mph ground speed.
iCD™ Cutting System
Innovative iCD™ Cutting System was engineered to produce the best possible cut in a multitude of conditions.
Specifications:
| | |
| --- | --- |
| Engine Brand | Kawasaki® FX730V EFI |
| Displacement (cc) | 726 |
| Cylinders | 2 |
| Fuel Tank Capacity (gal) | 8 |
| Cutting Height (in) | 1.75-5 |
| Suspension | Adjustable coil-over-shock; Operator Suspension Platform |
| Transmission | Dual, commercial Hydro-Gear® ZT-3400® transaxles with 7" cooling fans |
| Drive Tires (in) | 23 x 10.5-12 |
| Ground Speed-Fwd (mph) | 0-10 |
| Overall Length (in) | 72 |
| Dry Weight (lbs) | 998 |
| Certified Roll-over Protection System | N/A |
| Safety Group/Controls | Operator presence in platform, Parking brake safety circuit for starting engine, Automatic PTO restart |
| Warranty (Engine) | 3-Year limited manufacturer's warranty |
| Starter | Electric |
| Warranty Consumer Engine Info | 3-Year limited manufacturer's warranty |
| | |
| --- | --- |
| Engine Power Rating | 25.5 gross hp |
| PTO | Electric |
| Starting | Electric |
| Cutting Width (in) | 61 |
| Spindles | Cast-iron |
| Deck Construction | iCD™ Cutting System |
| Drive Axles (in) | 1.125 |
| Caster Tires (in.) | 13 x 5-6 Flat free |
| Ground Speed-Rev (mph) | 0-5 |
| Overall Width (in) Deflector Down/Deflector Up | 77/64 |
| Seat Package | N/A |
| Instrumentation | Hour meter, fuel level gauge |
| Parking Brake / Safety Circuit | Internal transaxle |
| Warranty (Balance of Machine) | 4-Year limited warranty (48 months) or 500 hours, whichever occurs first. Unlimited hours during the first 2 years (24 months). Coil-over-shocks and all suspension related components are covered for 4 years (48 months) unlimited hours. Coverage on other components varies. |