Leaf Blowers (back pack)
BR 430
Call store for pricing or click here to contact us.
When the job runs long, the STIHL BR 430 is right there with you. It has the features you need to get the job done with fewer refuels and less fatigue. Its pro-sized 57.5 oz. fuel tank goes even farther thanks to a fuel-efficient engine that produces cleaner emissions when compared to standard 2-stroke engines. In addition to its anti-vibration system and ElastoStart™ handle, the blower also features back padding, broad shoulder straps and soft rubber grip for enhanced comfort and support.
DISPLACEMENT: 63.3 cc (3.86 cu. in.)
ENGINE POWER: 2.9 kW (3.9 bhp)
WEIGHT: 10.1 kg (22.3 lbs.)
FUEL CAPACITY: 1700 cc (57.5 oz.)
BLOWING FORCE*: 26 Newtons
AVG. AIR VELOCITY**: 82 m/sec. (183 mph)
MAX. AIR VELOCITY**: 98 m/sec. (219 mph)
AIR VOLUME AT NOZZLE**: 850 m3/h (500 cfm)
SOUND PRESSURE RATING**: 76 dB(A)
POWER SOURCE: Gas
* Newton is the force needed to accelerate 1 kg of mass at the rate of 1 m/sec2.
** Tested in accordance with ANSI 175.2 standard. All specifications provided by Andreas STIHL AG, as of April 2016.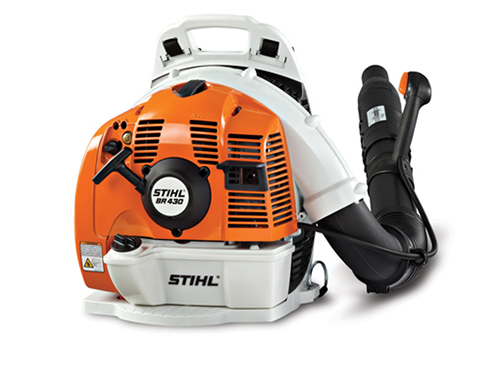 Key product features:
Reduced-Emission Engine Technology - Caring for Nature
The STIHL Inc. "Caring for Nature" seal identifies its powered products that are more environmentally conscious, producing zero or low exhaust emissions. STIHL Inc. defines "low exhaust emissions" as being cleaner than EPA and/or CARB exhaust emission standards.
Built in the USA
Indicates products that are built in the United States from domestic and foreign parts and components.
Multi-Function Control Handle
Having easy access to all of the controls on one comfortable handle makes it easy to complete tasks so the operator's hand never has to leave the handle.
Anti-Vibration System
The STIHL anti-vibration system helps reduce operator fatigue and provides a more comfortable working experience.
STIHL ElastoStart™
The ElastoStart™ starter handle is an exclusive feature of STIHL. It is a starting grip with a built-in shock absorber that helps reduce the effort when pulling on the starter cord. The ElastoStart™ starter grip noticeably reduces the sudden peak forces (compression) normally felt during cranking. The forces which occur at the grip after the first compression stroke are smoothed out.