Leaf Blowers (back pack)
Proudly serving Marlborough & Framingham MA for over 75 years
---
BR 700
Call store for pricing or click here to contact us.
The new STIHL BR 700 steps things up a notch in the STIHL blower range. This high output professional blower is our most powerful model to date. Able to clear piles of wet leaves, and reduce bottom line costs with its fuel efficient engine, it is the ideal tool to get control over tough landscaping tasks and large property maintenance. Professionals will love the adaptive design features, including an adjustable telescopic tube to accommodate users of different heights, and different applications, as well as the control handle that adjusts easily without tools to provide the most comfortable position. For further convenience, this blower comes with a semi-automatic choke for smooth and easy starts. Designed with an optimal power-to-weight ratio the BR 700 combines power and portability so you can get the job done whenever, wherever.
DISPLACEMENT: 64.8 cc (4.0 cu. in.)
ENGINE POWER: 2.8 kW (3.8 bhp)
WEIGHT: 10.6 kg (23.4 lbs.)
FUEL CAPACITY: 1400 cc (47.3 oz.)
BLOWING FORCE*: 35 Newtons
AVG. AIR VELOCITY**: 74 m/sec. (165 mph)
MAX. AIR VELOCITY**: 88 m/sec. (197 mph)
AIR VOLUME AT NOZZLE**: 1550 m3/h (912 cfm)
SOUND PRESSURE RATING**: 75 dB(A)
POWER SOURCE: Gas
* Newton is the force needed to accelerate 1 kg of mass at the rate of 1 m/sec2.
** Tested in accordance with ANSI 175.2 standard. All specifications provided by Andreas STIHL AG, as of April 2016.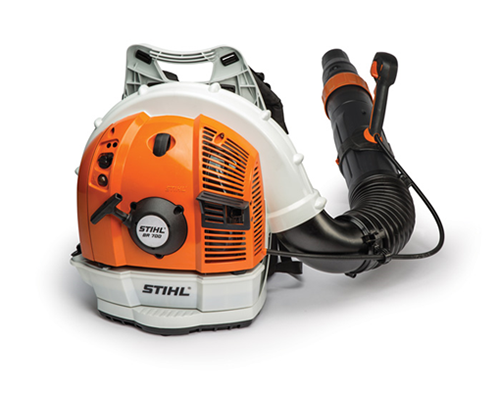 Key product features:
Built in the USA
Indicates products that are built in the United States from domestic and foreign parts and components.
Reduced-Emission Engine Technology - Caring for Nature
The STIHL Inc. "Caring for Nature" seal identifies its powered products that are more environmentally conscious, producing zero or low exhaust emissions. STIHL Inc. defines "low exhaust emissions" as being cleaner than EPA and/or CARB exhaust emission standards.
Multi-Function Control Handle
Having easy access to all of the controls on one comfortable handle makes it easy to complete tasks so the operator's hand never has to leave the handle.
Anti-Vibration System
The STIHL anti-vibration system helps reduce operator fatigue and provides a more comfortable working experience.
Adjustable Support Harness
STIHL backpack blowers and sprayers are equipped with an adjustable support harness that distributes weight evenly across the shoulders and back, reducing user fatigue.