Weed Trimmers
Proudly serving Marlborough & Framingham MA for over 75 years
---
FS 91 R
Call store for pricing or click here to contact us.
Fulfilling the demanding landscaper's trimming needs, the STIHL FS 91 R trimmer is the well-rounded choice for professionals. It features a low-emission engine and large fuel tank which provides 30% longer run times than the previous model. With its rubberized loop handle, this straight-shaft trimmer delivers a comfortable grip of product, the maneuverability needed to navigate obstacles and the power to cut them down. The FS 91 R trimmer also has a simplified three-step start procedure that saves users time, and a superior air filter benefitting you in the long run.
DISPLACEMENT: 28.4 cc (1.73 cu. in.)
ENGINE POWER: 0.95 kW (1.27 bhp)
WEIGHT*: 5.5 kg (12.1 lbs.)
FUEL CAPACITY: 710 cc (24.0 oz.)
POWER SOURCE: Gas
* Weight without cutting attachment or deflector.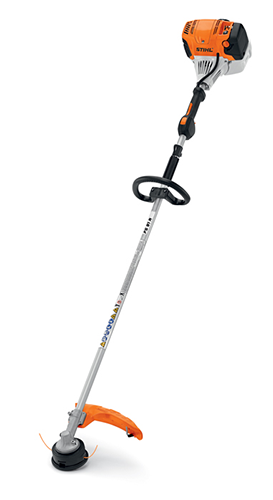 Key product features:
Reduced-Emission Engine Technology - Caring for Nature
The STIHL Inc. "Caring for Nature" seal identifies its powered products that are more environmentally conscious, producing zero or low exhaust emissions. STIHL Inc. defines "low exhaust emissions" as being cleaner than EPA and/or CARB exhaust emission standards.
Built in the USA
Indicates products that are built in the United States from domestic and foreign parts and components.
Shoulder Strap / Carrying System
Using a shoulder strap or carrying system helps distribute the weight of the equipment for increased operator comfort and improved maneuverability.
Adjustable Front Handle
Adjusts for comfort.
Fully Lined Drive Shaft
Provides smooth operation and less vibration.
High Tech Polymer Housing
Housings are lightweight, withstand greater impact and are corrosion-resistant.
Protected Choke Lever/Knob
Helps prevent damage.
Start/Run/Stop Controls on Handle
Throttle Trigger Interlock
Must be depressed before the trigger can be activated.
Air Filter Cover
Easily removed for fast and easy filter cleaning or replacement.
Protected or Enclosed Control Cables
Eliminate dangling and loose wires.
Heavy-Duty Steel-On-Steel Clutch
Centrifugal clutch is designed to reduce slippage.
Protected Spark Arrestor Muffler
Has large baffles which reduce noise level and contains a screen designed to reduce the emission of sparks.