Leaf Blowers (back pack)
Proudly serving Marlborough & Framingham MA for over 75 years
---
SH 56 C-E
Call store for pricing or click here to contact us.
The SH 56 C-E shredder vac turns yard work into less work. The fuel-efficient STIHL gasoline-powered engine really brings the power to the specially designed blade on the fan wheel – cutting yard waste down to size. Better yet, this versatile STIHL tool offers one power tool that does the work of two. It comes standard with the necessary parts to easily convert the shredder vac into a handheld blower. And as it shreds, the clippings accumulate in a secure, easy-open zippered bag for convenient emptying. And with the STIHL Easy2Start™ system, starting is easy – almost effortless.
DISPLACEMENT: 27.2 cc (1.66 cu. in.)
ENGINE POWER: 0.7 kW (0.9 bhp)
WEIGHT: 5.2 kg (11.5 Ibs.)
FUEL CAPACITY: 540 cc (18.3 oz.)
BLOWING FORCE*: 13 Newtons
AVG. AIR VELOCITY**: 60 m/sec. (134 mph)
MAX. AIR VELOCITY**: 71 m/sec. (159 mph)
AIR VOLUME AT NOZZLE**: 700 m3/h (412 cfm)
SOUND PRESSURE RATING**: 70 dB(A)
BAG CAPACITY: 1.5 cu. ft. = 1.2 bushel
POWER SOURCE: Gas
* Newton is the force needed to accelerate 1 kg of mass at the rate of 1 m/sec2.
** Tested in accordance with ANSI 175.2 standard. All specifications provided by Andreas STIHL AG, as of April 2016.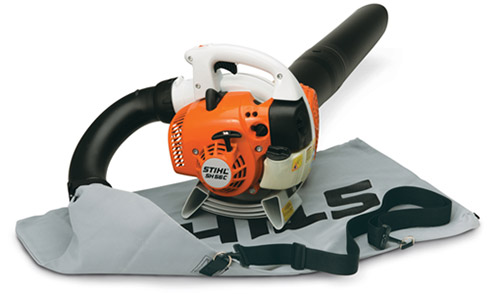 Key product features:
Built in the USA
Indicates products that are built in the United States from domestic and foreign parts and components.
STIHL Easy2Start™
The STIHL Easy2Start™ system makes starting STIHL® outdoor power tools almost effortless, eliminating the need for a strong pull of the starting cord. This advanced starting system is designed to make starting STIHL® products fast and easy. The specific system may vary by model, but in each case, a quick pull overcomes the engine's compression to minimize the strength and effort required to start. Available on selected products.
Shoulder Strap
The STIHL shoulder strap allows for greater maneuverability and helps reduce operator fatigue, allowing the user to work comfortably.
Multi-Function Control Handle
Having easy access to all of the controls on one comfortable handle helps makes it easier to complete tasks so the operator's hand never has to leave the handle.
Purge Pump Primer
The purge pump primer feature enables the user to prime the carburetor with fuel, enabling easier starting. The purge pump primer is designed in a way that the operator cannot flood the machine by priming the carburetor too many times. Flooding the engine is still possible if the choke is not removed after the engine fires.