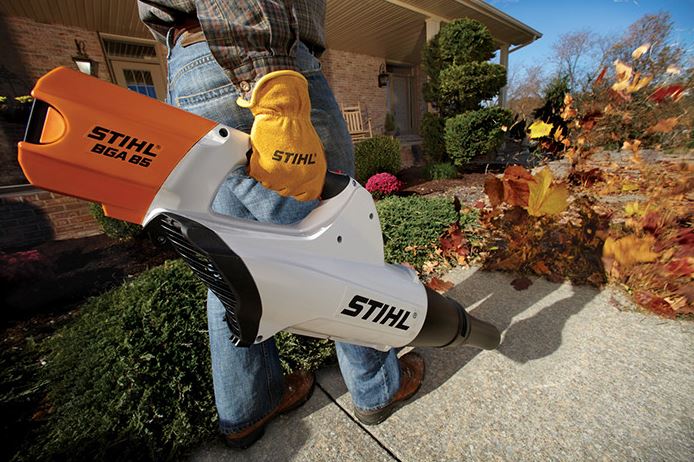 Stihl is the top selling brand of gas-powered outdoor equipment in North America, but it's lagged behind when it comes to battery-powered outdoor tools—until now. With the introduction of its Lightning battery systems, Stihl now has a cordless platform to meet the demands of professionals and homeowners.
Outdoor power equipment is a $10.6 billion dollar market, and is moving en masse to cordless, for environmental, noise, and convenience reasons. This has enticed upstart companies and traditional tool brands—like DeWalt and Milwaukee, to produce their own lines. But Stihl has always been a gas first company. They've sold an electric chainsaw and blower for a few years, but the cost was out of reach for homeowners, and frankly there were cheaper and better tools available.
Now, Stihl is changing its tune. The company's same German engineering has been applied to a fresh lineup of three battery platforms and new tools that are sure to shake up the industry.
The brand new AI system features an integrated battery, which remains in the tool, so no separate charger required. Just keep these tools plugged into the wall and they'll be ready to go when needed. These are the smallest and lightest of the new Stihl cordless tools, and are ideal for consumers with small yards, decks, and patios.
The AI system currently includes a hedge trimmer, blower, and trimmer. The same technology and cutting systems found in Stihl's professional tools have been built into this system. The AI tools will be competitively priced and available at your Monnick Supply in Marlborough, MA.
The AK system features two battery options and four tools that are a step up in power from the AI tools. With multiple battery options, this system is ideal for maintaining suburban yards and areas.
This system will likely appeal to the majority of homeowners who want plenty of power but at a lower cost and weight of semi-professional tools.
For larger properties with dense foliage, Stihl's AP system has more power and longer run times. There are eight tools to choose from in this system: hedge trimmer, trimmer, blower, chain saw, lawn mower, cut off wheel, extended hedge trimmer, and pole pruner.
If you've got an unwieldy yard and spend hours on it each week, then this system is probably your best choice.
Stihl outdoor power equipment is only available from dealers, with the hope that means better customer experience, including more knowledgeable sales staff and strong product support. Plus it benefits small business owners as opposed to big box retailers.
For more information, contact Monnick Supply in Marlborough, MA.
Popular Mechanics