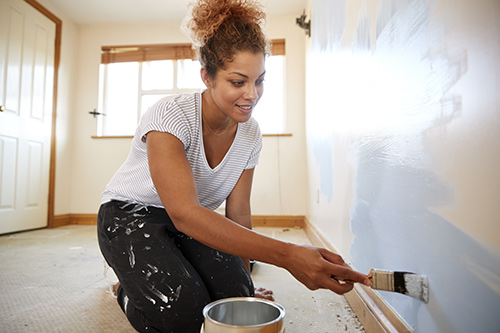 August is the ideal month to tackle some of those outdoor home improvement projects you've been putting off. And with summer quickly coming to an end, the time to start is now.
Here are a few projects you can complete before the end of August:
Paint Your House
Take advantage of the warm, dry weather and paint your house. When painting your house don't skimp on the prep work. Prepping your house may take some time, but it's just as important as painting and will help your paint last longer.
DidYouKnow: The average exterior paint job lasts about 10 years.
Update Your Patio
If you have a patio, why not enjoy it? Get your walkways and entertaining area in tip-top shape. Fix broken stones, clear out the weeds, and power wash the dirt and debris away.
While you're at it, consider adding a little personality to your patio. We have some budget-friendly ideas to help you create a whole new look that won't take entire weekend to complete.
Build a Stone Path
You don't have to be a skilled mason to build a stone path. This project is easy to do and adds curb appeal to your home.
Build a Tree Bench
This DIY tree bench might just become your favorite place to sit. Build one and get ready to lounge away the rest of summer!
Add Landscape Lighting
Now that you've built that stone path, light it up! Make the most of your hard work and investment with lighting that adds to the beauty of your of home.
Make a Adirondack Chair
Adirondack chairs are wonderful because of their simplicity and assembling a basic one will take you less than a day. Can you think of a better way to enjoy your patio than lounging in one of these?
For help with your home improvement projects, contact Monnick Supply.