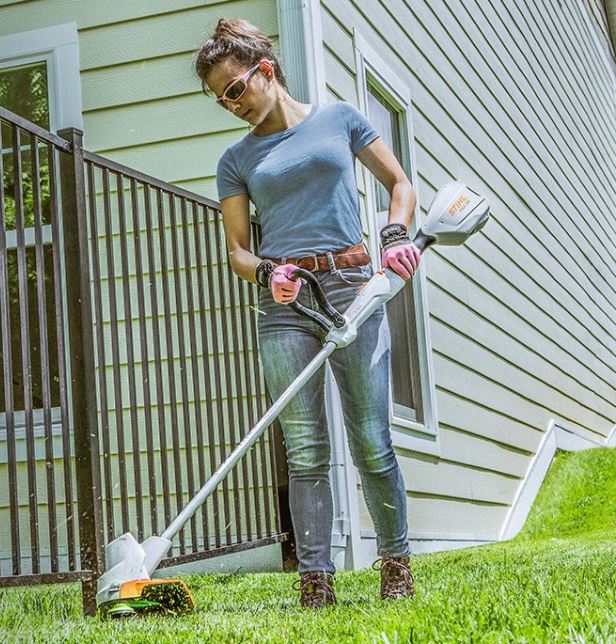 Cordless with lithium ion batteries, garden tools have never been easier and quieter to use.
With days getting longer and temperatures rising, plant growth is responding. If you can't keep up with your hedges and edges, maybe now is the time to re-evaluate your tool kit.
Cordless tools have been colonizing garden sheds for years. The invasion continues, quietly and stealthily, in line with technological innovation and the growing confidence among consumers in using these versatile and convenient battery-powered tools.
While many gardeners prefer good old elbow grease and traditional man-powered trimmers, clippers and shears, others who may have larger yards or simply struggle to use the heavy gas powered equipment have turned to the new breed of lithium ion cordless alternatives. A vast improvement on earlier versions, the latest generation of lithium ion power tools have many benefits:
The price of battery technology has come down.
Tools are quieter (ideal for Sunday morning attacks on the shrubbery), lighter and longer running than ever before.
The latest releases have better power.
Cordless tools are free from emissions and vibration is reduced.
Pretty much every garden chore can be tackled by battery, from mowing the lawn and chopping down trees to trimming edges.
Multi-task tools
Savvy shoppers should take note of the move towards multi-tools; the idea is that you buy a battery or two and a charger that fit a wide range of tools from the same manufacturer. This means you can buy the tools you want and have one charger and a couple of batteries to run everything.
Two batteries allow you to work with a charged tool and have a battery on charge while you work. Several brands offer an inventory that encompasses DIY tools as well as hedge trimmers, mowers, chainsaws and grass trimmers.
The Stihl cordless garden range is expanding all the time. Many of its tools feature the new EC brushless motor that is virtually maintenance-free, very durable and more efficient, offering even longer running time from the batteries. More importantly, Stihl batteries remain the same shape physically so that any Stihl battery will run any of its modular range now and in the future (apart from the mini HSA 25 shrub shears).
Battery facts
Lithium ion technology offers faster charging time and there's little discharge of batteries if a tool is left for a while.
Battery life is longer and the cost of a recharge is minimal (around 1p for a 36-volt battery recharge).
You don't need to fully charge the battery (unlike the old NiCad batteries) to prolong life.
For more information on STIHL battery powered lawn and garden tools, contact Monnick Supply in Marlborough and Framingham.
The Telegraph