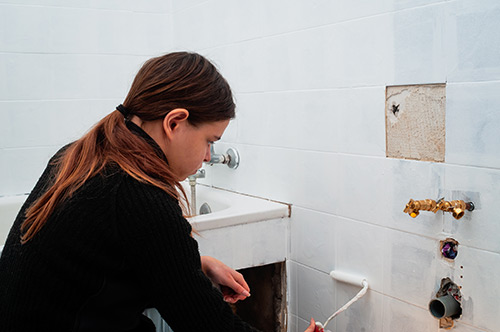 We round up a selection of quick and easy budget upgrades to inspire your next home improvement project.
Easy Home Upgrades You Can Do on a Budget
Pick from our round-up of value-boosting upgrades that all come in under the $500 mark—some well under. Not only will they be soft on your wallet now, but some of these will even save you money in the future. Check out our easy home improvement ideas below.
Refresh Your Rooms With Paint
You can give your drab, washed-out walls a burst of brilliant depth (or wash away your decorating sins with virgin white) just by picking up a paint can and having at them. That's the power of a coat of paint: It rearranges your reality. Which is why painting is the most oft-tackled DIY home-improvement upgrade.
While you don't have to be a pro to learn how to paint like one, there is more to a good paint job than just slathering some color on the wall.
Install a Low-Cost Stair Runner
Want to get a good grip on slippery stairs? Try a DIY runner. After getting a quote of $2,500 to carpet her dangerously slick oak staircase, TOH reader Jaime Shackford took the project into her own hands. Using just two off-the-shelf woven runners ($125 each) and supplies from a home center, she gave her stairs an non-slip upgrade.
Rewire a Vintage Entry Lantern
Many hanging lanterns from the first half of the 20th century were humble by design, looking as if they'd been crafted by blacksmiths rather than machines.
Popularized by tastemakers of the time, such as Gustav Stickley and the Roycroft crafters, these rustic lanterns exemplified a back-to-basics design sensibility. If you've scored one such find at a yard sale or have one stashed in the attic, you can invite guests to "come on in" by putting back into service a vintage lantern. It's an easy, affordable job once you get the parts.
Renew Old Flooring With Paint
The burgundy red floor in the master bedroom of Sara and Andrew's Massachusetts farmhouse didn't fit the fresh and energetic personality of the newlyweds. But refinishing wasn't an option on a limited budget. So to update the space, they painted the floor in a light checked pattern, using beige and white to warm up their cool blue walls.
Make Shade and Add Privacy With Interior Shutters
Sunlight streaming through windows can be an annoying distraction. Not to mention the neighbors who have more evening hours to look into your brightly lit living room. You could install shades to foil prying eyes, but swinging wood shutters would definitely be more beautiful.
Interior shutters were the original "window treatments," commonly used in Southern and urban houses, and they're still a great way to add architectural and historical detail. They also help keep out winter's chilly winds or summer's oppressive heat. And they're easy to install on any window because they attach to a thin frame that either sits inside the window opening or around the outside of the casing.
Give Kitchen Cabinets a Flawless, New Finish
Your cavelike kitchen feels that way because the dark cabinets have sucked all the light out of the room. But a brighter makeover doesn't necessarily mean replacing those gloomy boxes with all-new one. As long as the frames and doors are structurally sound, you can clean them up and brush on some new paint—and within a weekend take that kitchen from dreary to sunny. All you need is some strong cleaner, sandpaper, a paintbrush, and a little elbow grease. What you don't need is a whole lot of money, as the transformation will cost you a fraction of even the cheapest new cabinets.
Get More Flowers Without Spending a Dime
Dividing perennials every three to six years is a great way to thin clump-forming varieties, like the daylily (shown here), which blooms from late spring to late summer. This technique can also be used to control plant size, invigorate growth, and multiply the number of specimens in a garden. A good rule of thumb is to split apart spring- and summer-blooming perennials in late summer or before the fall frost.
Install a Water Filter and Ditch Expensive Bottles
Millions of households have switched to bottled drinking water because of concerns over the purity or taste of their tap water. Such problems exist across the country, regardless of whether the water comes from municipal pipeline or ground well. However, there's an easier, less expensive way to obtain clean drinking water: install an under-sink water-filtration system.
Source: thisoldhouse.com