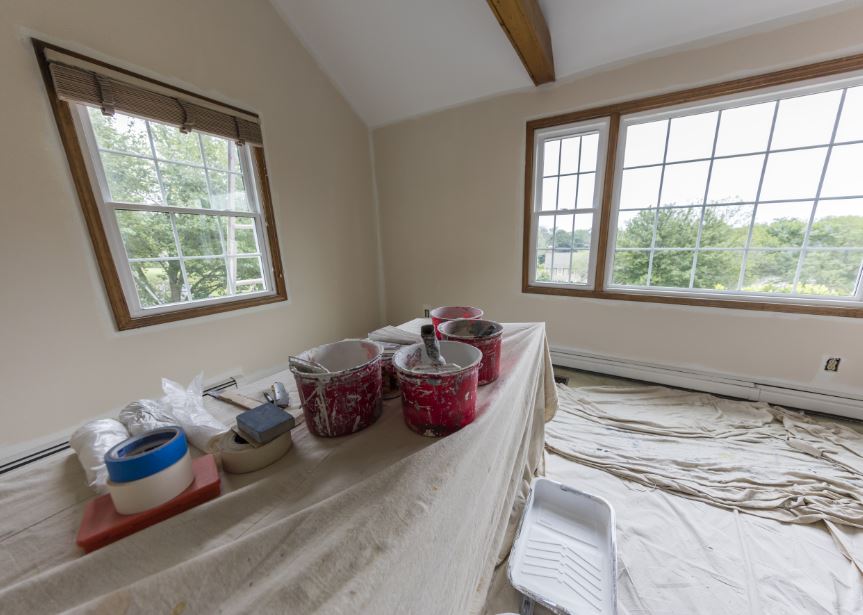 Many of these DIY home improvement ideas coincide with the property upgrades with the highest return on investment to boot.
Here are ten ways to get your hands dirty and whip your property into shape DIY-style!
Get Serious About Curb Appeal
First impressions and curb appeal matter a lot. So what can you do to boost your curb appeal, and make a stellar first impression?
First of all, scrape and paint any surfaces with flaking paint. No brainer.
If your property has a front lawn, it should be trimmed, mowed and landscaped. Coiffed. Primped to perfection.
You can consider planting bushes, shrubs, trees, etc., but we're trying to save money here, not splurge, so proceed with prudence.
One simple tactic is to add potted plants. This works whether your property is urban or rural; you can line the sidewalk or entryway for a cheap, easy DIY property win.
Power Wash the Siding
Along similar lines, make sure the siding is spotless. If you don't own a power washer (and let's face it, most of us don't) then rent one.
Operating one of these bad boys isn't exactly rocket science. It makes an easy DIY home improvement that anyone can undertake.
Your siding should positively sparkle with cleanliness. First impressions matter!
Touch Up the Bathroom
Most bathrooms offer low-hanging fruit for DIY home improvement ideas – you just need to identify them.
For example, replacing the hardware on the cabinets and repainting them is a quick and easy way to liven up the bathroom. You can recaulk around the toilet, tub, and shower to keep waterproof seals, well, waterproof.
If you have ceramic tile on the floor or shower walls, touch up the grout. You can buy grout that just squirts out of a caulk gun; it works just like caulking.
Repaint the walls. Replace the faucet and/or handles. Resurface the tub if it's looking stained and gnarly.
Add Dimmer Switches to the Lights
Dimmer switches are cheap – about $15-40 apiece depending on style. And just as appealingly, you can swap them in yourself.
Read an article or two about how to not electrocute yourself, but it really is as simple as unscrewing the light switch plate, pulling out the electrical box, disconnecting wires from the old switch, and reconnecting them to the new switch. It's not as scary as it sounds, and anyone can knock it out as a DIY home improvement project.
Dimmer switches are a cheap, easy way to show off how "modern" your property is, and makes for a simple demonstration to elicit oohs and ahs from prospects as they walk through your property.
Go Green & Smart for the Price of One
Start with a smart thermostat. It costs about $200, reduces energy costs, and pays for itself within a year or so.
Then snag a smart security system that includes air quality monitoring. Once again, several birds are dropping with one stone here: boosting security, safety, smartness and it sounds eco-friendly.
And the coup de grace? Install new fiberglass attic insulation. It's also the only home upgrade with a positive return on investment, recovering 107.7% of its cost in higher home values.
Polish & Refinish Those Hardwood Floors
If your floors are scuffed and scraped, you can sand them first. If not, just clean them and start polishing! There's nothing like gleaming hardwood floors that positively shine. Sure, you can use a machine polisher, but assuming you don't have one handy, just do it by hand (or foot). It's an easy DIY home improvement idea you can tackle in a single day.
Give Your Kitchen a New Look
Kitchen renovations often slip into the five digits. People just can't help themselves, they get excited and just spend-spend-spend.
That's not what we're talking about here.
If your cabinets are old, paint them.
Swap out the cabinet hardware. Replace the faucet. Cover the gross old laminate flooring with a giant throw rug. Get creative, and don't hesitate to scour the Internet for inspiration and see what other DIY home improvement ideas strike you around the kitchen!
Paint!
An oldie but goodie, as DIY home improvement ideas go. Fresh paint can do wonders for any room, so grab a brush and have at it!
Pick neutral colors for most rooms. Only get more adventurous if you feel quite confident in your interior decorating ability. And that confidence has been validated by at least three reliable, unbiased sources!
Brighter, lighter colors tend to make most rooms look bigger and more welcoming that darker colors, but there are exceptions.
If you haven't done much painting in your life, the cardinal skill is actually not painting, but taping. Be meticulous with your taping, so you don't have to be a perfect painter.
Clean It Spick & Span!
Speaking of sparkling, every part of the inside of your home should be flawlessly clean. That goes double for kitchens and bathrooms.
That doesn't just mean mopping floors though. If you live in the property, it also means decluttering and depersonalizing it as much as possible.
For help with your DIY home projects, contact Monnick Supply in Framingham and Marlborough, MA.