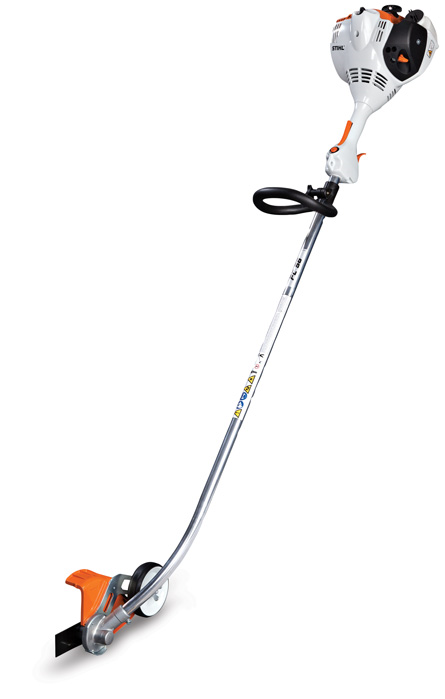 When nature crosses the line, lay down the law with a STIHL edger. With powerful, low-emission engines, our edging tools help you take back your sidewalks, walkways and curbs. Keep grass under control, weeds under wraps and soil in its proper place. With a STIHL lawn edger, you can add a crisp, finishing touch at home, on the job or anywhere in need of bold new definition. They're as close as you can get to giving your landscape an exclamation mark.
STIHL edgers are also easy to use, featuring adjustable depth wheels, excellent balance and ergonomic handle controls. When it's finally time for your edger to regain its edge, replacing its 8" hardened steel blade is quick and easy to access. And all STIHL edgers include heavy-duty skid plates to protect the gearbox from wear. We make our edgers with strong, durable components so they are dependable and long-lasting. Your weeds and overgrown grass don't have an expiration date, so why should your edger?
As a homeowner looking to add definition to your outdoor space, STIHL gives you the edge you're looking for.
Homeowner Edger: For a precise finishing touch
Well-defined. Put together. Buttoned up. That's exactly how your lawn will look with the addition of a STIHL edger to your outdoor power tool collection. STIHL edgers for homeowners provide the finishing touch that exudes a look of stately elegance. But it's not just the clean, crisp lines of a well-kept lawn that does it for you. It's the quality craftsmanship – the feel of your tools in your hands – that brings such satisfaction when creating your own well-manicured yard. To help you identify model features, look for these corresponding symbols: C = Comfort feature and E = Easy2Start™.
The fuel-efficient, low-emission engine, adjustable depth wheel, durable construction and comfortable, ergonomic design are all meticulously crafted to help you feel like a pro, even when you're just tinkering around your own yard. Because with a STIHL edger in your hands, you don't have to be a professional landscaper to look like one.
For more information contact, Monnick Supply in Framingham and Marlborough, MA.