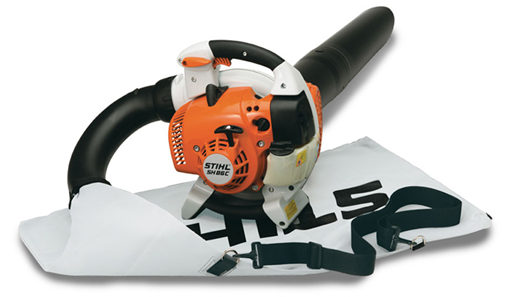 Part of the fun of gardening is finding the perfect tools to get the job done. We recommend these useful garden aids to keep your outdoor space in shape this fall.
A Powerful Leaf Blower
An Electric Blower Vac has the expected added power that comes with electric blowers without the mess and fuss of gas. These can really get the leaf-blowing job done and are easy to hold and maneuver while being easy on the ears. And as a nice additional perk, many can also work as a vacuum and leaf shredder, depositing your fall leaves into a handy bag attachment for easy disposal.
Tip Bags
These freestanding, durable tip bags in medium and large sizes, stay open to allow for easy dumping of leaves and other garden detritus. A great helpmate for gathering fall leaves, these tip bags are a handy alternative to tarps and blowers. The large bag is especially useful, with a 30" diameter that minimizes those trips to the curb.
A Rake for Tight Spaces
A seemingly no-brainer innovation that changes a dreaded task into an ergonomic pleasure, this compact rake is a life saver.
Fall-Built Garden Cart
A Cart built to tackle a variety of garden chores including the ubiquitous task of hauling and dumping leaves. Four pneumatic tires offer great balance and the ability to traverse all kinds of uneven, bumpy terrain or the slick surfaces that come with fall. This handy cart is the grown-up version of the little red wagon you loved as a kid.
Pruning?
Pruners are made for smaller hands and will do quick work on all of your fall pruning tasks. These pruners are best for grape vines, shrubs and young trees.
Loppers
Some garden tasks are drudgery: weeding, anyone? But pruning is one of the more satisfying chores. You get instant results and nothing quite matches the satisfying crack of a limb snapping and then crashing to the ground. The only downside of handy Loppers ? They're so darn fun to use, you may find yourself trying to find more and more things to prune into submission.
Small Bulb Planter
Bulb planting in your future? Try a small bulb planter. A bulb planter is a specialized tool built to last that will make quicker work of this fall task.
Shredder
Tired of raking up leaves every fall? Go eco instead and turn them into garden mulch to nourish your winter garden with this clever shredder. Goggles and gloves are recommended in using a shredder.
Snips
These handy clippers are probably good any time of year, but will serve you especially well in the fall when their sharp blades make quick work of pruning and deadheading and other fall cleaning and clearing tasks.
For more information on these or any other fall yard tools, contact Monnick Supply in Marlborough or Framingham, MA.
HGTV.com