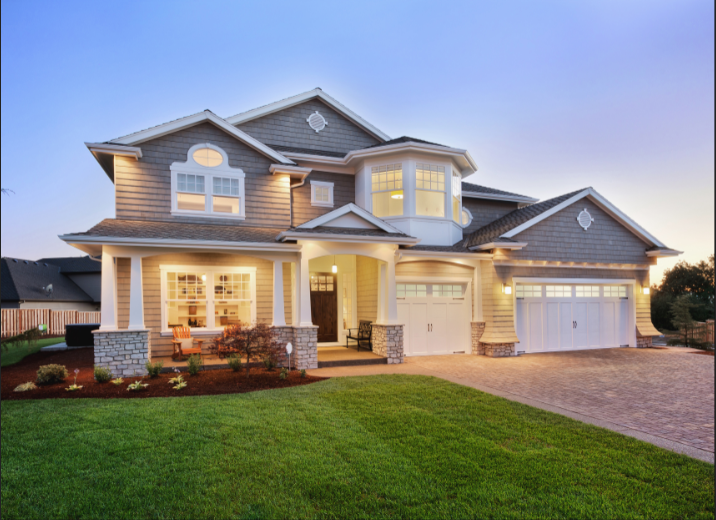 Fall Lawn Care
To ensure your lawn's health and beauty come spring, there are several important yard work projects to complete in the fall. Raking leaves and will prevent your lawn and garden beds from suffocating, while fertilizing and winterizing grass, trees, and shrubs will allow your greenery to enter its winter slumber comfortably and properly nourished.
Exterior Paint
Fall offers plenty of days that are warm enough to work with exterior paint, and a touch-up can help prolong the life of your siding and trim. A fresh coat of paint or sealer on any surface that potentially will be covered with snow, such as wood floors or stairs, also is a wise idea. Sooner is better to contact a local painter -- many paints aren't recommended for application on days when the temperature will dip colder than 45 to 50 degrees.
Power Washing
power washer and addressing your home's exterior and windows won't just make your home look sharp, it also will prevent the growth of mold and mildew that feed on grime. If you're not comfortable deciding whether your home's exterior can handle the pressure that will be exerted from the various pressure-washing nozzles available, hire a professional to do the work.
Seal Gaps & Add Insulation
Nothing makes a home more uncomfortable during the winter than a nagging, chilly draft. Consider a home energy audit that includes a review of your home's caulking and weather stripping. Energy auditors also will likely look inside your attic. If the insulation is at or below the level of the joists, you may be able to keep your home warmer by adding more. A depth of 10 to 14 inches is generally considered optimal, and you can supplement with a variety of different types of insulation to achieve that depth.
Install a Programmable Thermostat
Programmable thermostats save money without sacrificing comfort by using less energy on heating and cooling while you're away from home, asleep, or at any other specific times you select. More accurate and convenient to use than manual thermostats, programmable thermostats don't contain toxic mercury found in traditional models.
Clean, Repair, and Protect Gutters
Your home's gutters divert thousands of gallons of water each year. To keep the water flowing smoothly away from your house instead of into it, inspect and clean your roof's drainage system. Better still, protect your gutters with mesh guards to keep leaves and other debris from causing blockages in the first place.
For more information, materials, or to rent equipment, contact Monnick Supply in Framingham and Marlborough, MA.