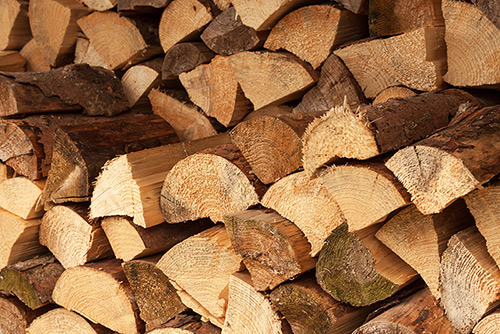 In our last Monnick Supply blog we showed you 25 fall maintenance tips, here are the next 25! You'll definitely regret skipping over any of these important home maintenance tasks this fall.
26. Make a winter driving kit
This kit is overkill for year-round driving, but it could be very useful during winter. It only takes a few minutes to put together and you probably already have most of the stuff! Then, make sure you make these winter car care fixes as well so your car survived the winter.
27. Stockpile firewood
Whether you have a source of wood on your property or need to purchase a cord or two, fall is a great time to spend cutting and chopping wood to burn in your fireplace all winter long. And if you're using a chain saw, make sure to brush up on your safety knowledge before you hit the forest.
28. Cut your lawn short
Keep mowing your grass until it stops growing. And your last mow of the season should cut your grass nice and short. This reduces the chance that your lawn will get snow mold and vole damage.
29. Fertilize your lawn
It's important to apply fertilizer to your lawn during the fall—in fact, if you only apply fertilizer once a year, fall is the time to do it. Your lawn has spent all summer growing and it's hungry.
30. Bring paint inside
Freezing can ruin latex paint and other finishes, so make sure to move your paint inside before the first frost. Some latex paint can survive a couple of freeze/thaw cycles, but it's better not to chance it.
31. Don't let glue freeze
Many adhesives–wood glue especially–can be ruined by just one freeze/thaw cycle, so it's a good idea to store them in a heated space during cold months. Even glue just left overnight in a car can freeze and make it unusable.
32. Water your lawn in the fall
Your lawn still needs water in autumn, even though the leaves are changing, the growing season is winding down and your grass isn't growing fast. Fall watering helps your lawn recover from summer stress and gain strength for the winter ahead. Also, if you fertilize in the fall, watering is necessary for the fertilizer to dissolve and soak into the ground where it's needed. So don't put your hoses or sprinklers away until the ground starts to freeze, your fall grass needs it. Here are other secrets your landscaper won't tell you.
33. Build a mitten and shoe dryer
Drill pairs of 1/8-in. holes in a scrap of 2×4 and insert U-shaped pieces of galvanized 14-gauge wire. If you have forced-air heat, drill 1-in. holes between the pairs of 1/8-in. holes using a spade bit, and set the rack on a register for fast drying.
34. Bleed hot water radiators
When trapped air clogs a hot water radiator, some or all of the 'fins' will stay cold. At the top of the radiator, look for a small valve like the one shown. Take a radiator key, 1/4-in. 12-point socket, or a flat screwdriver (depending on the valve type) and slowly turn the valve counter-clockwise until water starts dripping out. This releases the trapped air and lets hot water into the cold fins. While you're at it, you might as well repeat the process on all of your radiators. Have a cup or dish handy to catch the water.
35. Clear steam radiator vents
Steam radiators have an air vent like the one shown. Unfortunately, many of these vents get painted over, plugging the air hole. Clear the air hole in the top of the vent with a small wire or sewing needle. If you're still worried about the air vents working properly, consult a hot water/steam heat specialist who can replace the vents.
36. Install stovetop fire suppressors
Kitchen fires can quickly get out of hand, and with Thanksgiving on the horizon, you'll likely be cooking more. Do yourself a favor and get a pair of fire suppressors. These magnetically-mounted cans live in your range hood and are activated when flames reach the fuze on the can.
37. Inspect and fix your garage door
Cold can wreak havoc on garage door tracks. Make sure your garage door is in good shape so you don't find yourself stuck in the garage (or worse yet—stuck outside).
38. Check your detectors
With furnaces turned on, the windows closed and portable heaters humming along, fall is a great time to make sure your smoke and CO detectors are working. Check batteries and expiration dates—smoke detectors are typically good for 10 years, and CO detectors last for about six years.
39. Empty pots and planters
The water in soil left in flower pots and planters over winter can freeze and expand. Make sure to empty your clay and ceramic planters so they'll survive for next season.
40. Fix your furniture
Not only is fixing your furniture a fun and easy indoor project, but you'll also be glad to have sturdy, good-looking chairs and tables when guests stop by for holidays.
41. Insulate pipes
Pipes running through unheated basements and crawlspaces as well as exterior walls can be prone to freezing during winter (and causing bigger problems). Make sure it doesn't happen to you.
42. How to seal outlets and ceiling boxes
The tiny gaps around outlets on exterior walls and ceiling boxes let cold air in (and warm air out). Sealing these areas takes just half a day and will help cut down on drafts (and your heating bill!).
43. Protect your house from critters
As temperatures drop, mice and other vermin will want to find a warm place to hunker down. Don't let it be your house! Seal up any critter gaps and have a game plan for getting rid of any critters that might make themselves at home.
44. Test for radon
If you haven't tested your house for radon, now is the time to do it. Sealing up your house for the winter also means you're trapping potential cancer-causing radon gas. Get your house tested and take means to mitigate it if it's a problem.
45. Clean dryers and vents
Thousands of dryer fires are caused by lint every year, yet they can be easily prevented with a few minutes of cleaning. With drier air and cooler temperatures approaching, make it a fall ritual to clean out your dryer and vent.
46. Handrail safety check
Go around your property and test and secure any loose handrails. Think about someone grabbing a handrail when slipping on some ice or snow, and make sure it's up to the task.
47. Fill your bird feeders
If you've been feeding birds around your property, make sure to keep the bird feeders full through winter. They'll come back to the area looking for food, and you want to make sure they don't go hungry.
48. Don't prune your trees
While intuition might want to make you get out your chainsaw and start pruning after the leaves fall, you could do more harm than good. Most trees are still active in the fall and any pruning during fall will encourage new growth at the wrong time. Wait until your trees are truly dormant to do your tree trimming—during winter or early spring.
49. Save your tender bulbs
A lot of northern gardeners treat tender bulbs as annuals, allowing them to die at season's end. Instead, overwinter them. To make it simpler, plant tender bulbs in containers. Then, after frost kills the tops, whisk the containers into cool storage in a basement or attached garage. Water sparingly—maybe once a month—while they're dormant so the soil doesn't totally dry out—and bring the containers back out in spring.
50. Store lawn chairs
Here's how to store your lawn and folding chairs so they're out of your way. Take two pieces of 1×4 lumber (any scrap lumber will do) and create some simple, cheap and useful brackets on the wall. Cut each board 7-3/4 in. long with a 30-degree angle on both ends. Fasten pairs of these brackets with three 2-in. screws to the side of the exposed wall studs, directly across from each other, and you've got a perfect place to hang your chairs.
Source: rd.com