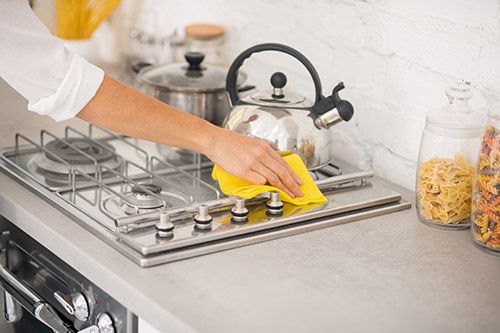 1. Clean the kitchen
Check a couple of these items off your winter home safety maintenance checklist to improve conditions in your kitchen.
Deep clean the garbage disposal
Nobody likes a stinky sink, so take a little time this February to clear the air in your kitchen. A clogged garbage disposal isn't just gross—it can create expensive plumbing problems. Here's how to clean your garbage disposal.
Turn off the power.
Wipe the grinding chamber and drain.
Deodorize with ice and vinegar.
Keep your garbage disposal clean for the rest of the year by grinding orange and lemon peels once a week.
Clean out the oven
Did you know that 8% of home cooking fires are caused by dirty ovens or ranges?1 Grime and food built up over the year can render your oven a grimy fire hazard if you don't clean it regularly.
The good news is cleaning the oven is as easy as following the instructions on your favorite brand of oven cleaner.
2. Be fire smart
It's easy to take your hallways for granted when it comes to routine checks and maintenance. These quick tasks take only a few minutes and can keep your home safe all year.
Check fire extinguishers
Kitchen fires are serious business. From 2012 to 2016, cooking was the leading cause of home fires and home fire injuries and the second leading cause behind home fire deaths.
You can keep an accident from becoming a tragedy by investing in a fire extinguisher and training your family on how to use it. If you already have one, check the gauge to make sure it's in the green. If not, get it recharged.
Test smoke alarms and carbon monoxide detectors
Dead batteries caused 25% of smoke alarm failures from 2012 to 2016.3 Simple routine maintenance can keep your home much safer.
This February, check all the batteries in your smoke alarms and carbon monoxide detectors to make sure they're functional. If it's been over 10 years since you last replaced these units, invest a little cash and replace your existing detectors.
3. Odds-and-ends upkeep
Make your home feel a little cozier with these bedroom and living area improvements.
Change your HVAC filter
Air quality is important inside and outside your home. Breathe a little easier going into spring by changing your HVAC air filter in the hallways, ceilings, or wherever your vent is located. While vents can vary from home to home, the process takes about as long as changing a lightbulb.
Clean linens, carpets, and curtains
Dust, mites, and dander can all cause allergies long before spring pollen strikes. Deep clean your bedsheets, duvets, and comforters in each bedroom to keep the creepy crawlies away. The carpets and curtains in your living areas will also need some love after a year of use.
Change Wi-Fi and personal passwords
Internet-connected smart devices like security systems and cameras need a little maintenance too. Regularly changing your home Wi-Fi password and passwords to accounts like email, bank, and social media accounts can keep prying eyes at bay.
Use unique, complex passwords for each of your accounts for extra security. You should do this more than once a year, but it's never too late to start! Try using a password manager this month to keep all your data safe.
Upgrade indoor lights
Brighten things up with an upgrade to your living room and bedroom lights. You can control smart lights and anything plugged into a smart plug directly from your phone.
These devices let you turn on the lights or start your morning coffee without getting out of bed. You can also find smartbulbs that add mood lighting for that big date with your valentine.
4. Inspect bathrooms
Here are a few home safety maintenance tasks to make your throne room fit for a king.
Clean out your medicine cabinet
After years of medications piling up, it's time to clean out your medicine cabinet. The Food and Drug Administration (FDA) recommends tossing unused or expired medications.
Proper disposal depends on the type of medication you're throwing away. There are some medications you can flush and others you can't. For those you aren't sure about, many cities have take-back locations that will dispose of medications properly.
Recaulk the tub and toilet
Prevent leaks and water damage in your home by checking the sealing and caulking in your bathroom. It only takes a few minutes to patch up any problem areas. You can find caulk online or at your local hardware store.
Deep clean to prevent mold
Bathrooms are a paradise for molds, mildew, and fungus. This February, clean out your vents, fix any water leaks, and scrub the walls and ceilings to prevent black mold and other household mildews.
5. Upgrade outside
While February can be chilly, for those in warmer climates, spring is just around the corner. Here are a few ways you can keep the outside of your home safer until the warm weather comes.
Keep the driveway and sidewalk clear
If you live in a cold, snowy area, you already know how important it is to de-ice the driveway and sidewalk. Even if you don't use the sidewalk near your home, others do. Keeping ice-melting salt and a snow shovel handy for those winter storms can make your home safer for your family and neighbors.
Watch for ice dams and icicles
Ice buildup on your roof and gutters can cause expensive damage later in the year. Patch up any areas that tend to collect water to prevent leaks and further damage to your roof.
If you live in a warmer area, clean out your gutters this February to prepare for the spring showers. Clogged gutters can cause expensive issues with your roof even if snow and ice aren't part of the equation.
Upgrade locks
Boost security and convenience with new smart locks this year. Smart locks make it easier for you to get in and out of your house without letting intruders in. They're especially handy for anyone who tends to lose their keys or needs to let visitors in.
Get ahead on spring cleaning
It can be easy to get cabin fever this time of year, so make your home feel a little safer, cleaner, and happier this February by checking some items off this home maintenance list.
Want help? Contact Monnick Supply today.