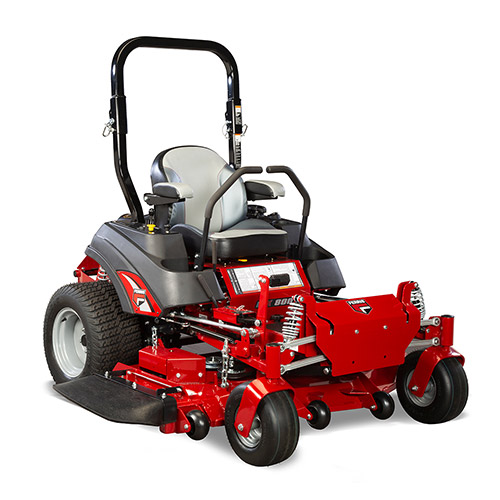 This commercial mower features the next generation of independent suspension with a five-year limited suspension warranty.
Landscape professionals looking to optimize their productivity, mow faster without sacrificing cut quality and experience a smooth ride have the Ferris® ISX™ 800 from Briggs & Stratton Corporation. The ISX 800 offers the patent-pending ForeFront Suspension System™, the next generation in Ferris independent suspension technology.
The ForeFront Suspension System™ is a natural evolution of independent suspension for Ferris. The system utilizes four upper and lower control rods that ensure the front caster bearing remains vertical through the full range of travel. This controlled motion results in a smoother ride, more precise tracing of the terrain and an improved cut. This patent-pending design keeps Ferris on the leading edge of suspension technology for the outdoor power equipment market.
The ForeFront Suspension System proves that Ferris is not done taking care of their operators who ride every day. They expect excellent results from their equipment, and Ferris is providing them with advanced technology found on an ATV.
The ISX 800 has an innovative two-belt iCD™ cutting system which reduces the chance of a belt dislodging or rolling from the pulley, increasing its reliability in a variety of conditions and is covered by a three-year belt limited warranty1. The Ferris ISX 800 is equipped with a Hydro-Gear® ZT-3400® transaxle for added durability with every pass and is powered by the operator's choice of Briggs & Stratton® Commercial Series engines or Kawasaki® engines. Operators can choose from a 52 inch or a 61 inch iCD cutting deck. The ISX 800 is capable of mowing at up to 10 miles per hour and features larger front casters and rear tires than the IS 700Z. A premium mid-back seat provides ultimate operator comfort.
The ISX 800 is backed by a Limited Warranty. This simple warranty covers the unit for four years or 500 hours. During the first two years, the mower is covered for unlimited hours. All suspension components, including the coil-over shocks, are covered for five (5) years.