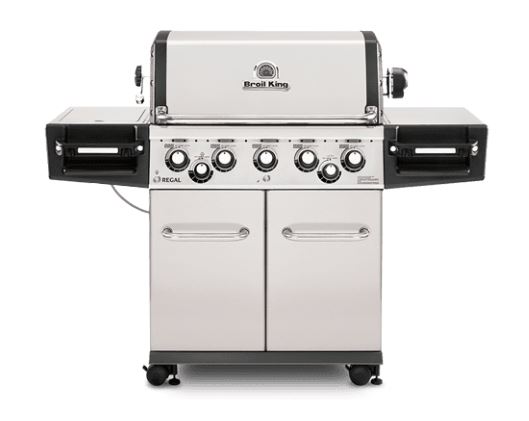 When it comes to gas grills you can find a lot more manufacturers, a lot of models, and a lot of confusion. Companies like Broil-King, Char-Broil, and Weber all have a wide range of models to offer. There are also a lot of store brand grills starting around $400, many of which you will want to avoid.
These grills offer a lot of features, some are made in North America while many are made in China and you typically find warranties good for 5 to 10 years. Stick with a name brand grill and not a store brand. Support is better and you are more like to be able to get replacement parts down the road.
What to Look for in a Gas Grill
In this price range, stay away from any gas grill that has a lot of stainless steel. Stainless steel used on these gas grills is almost always low grade, 430 stainless. This kind of stainless steel holds a magnet so that's one way you can easily test for it. This type of metal is prone to discoloring, staining, and rusting. This means that these grills look great on the showroom floor but have trouble retaining their appearance. Look for porcelain coated steel grills. You are going to find that these grills are much larger than the less expensive units.
Don't be tempted to buy the biggest grill if you don't need that much space. Look at gas grills with a primary cooking space of 300 to 350 square inches and a BTU rating around 28,000 to 36,000. While some of these grills have as many as 5 burners to heat spaces over 400 square inches the smaller grills only need 3 burners.
Most of these grills have side burners and if that is something you will use (which most people don't) get it. Otherwise, there is no need to pay for it. If you do a lot of rotisserie cooking (or plan to) the rear mounted rotisserie burners are nice but the ceramic type burners tend to break easily so rotisserie burners that are a standard gas port burner are better. Don't buy more, either in size or in features, than you need.
When shopping for a gas grill don't be afraid to dig down inside to see how it is put together. It is a good idea to remove the cooking grates on the showroom floor and take a look at the burners. The burners in almost all grills in this price range are stainless steel, tubular burners. This is when a magnet will really come in handy. If the magnet sticks to the burners they are low-grade stainless steel. Avoid these grills. If a burner is going to last more than a few seasons it should be heavy duty, 304 stainless steel. If the burner feels lightweight don't buy the grill.
Gas Grills in this price range should offer you high, even heating and most of the name brand grills do. You should also get some good versatility out of one of these grills.
While you will find that some shortcuts have been taken with some of the grills in this price range you should expect at least 5 years good service out of a grill that costs between $250 and $500. That lifespan can easily be increased to 10 years with care and the occasional replacement part.
Since most grills come with warranties and since the brand name manufacturers offer good warranties and tend to actually honor them it is important that you register your grill and are prepared to take advantage of failed parts. Good customer support is something you should expect in this price range and if the maker of your grill doesn't offer it, you don't want their grill.
For more information on the best gas grill for you, contact Monnick Supply in Marlborough and Framingham, MA. To see demonstration on gas grills, come to our Grill Demo Day on April 22, from 10am to 2pm.
The Spruce