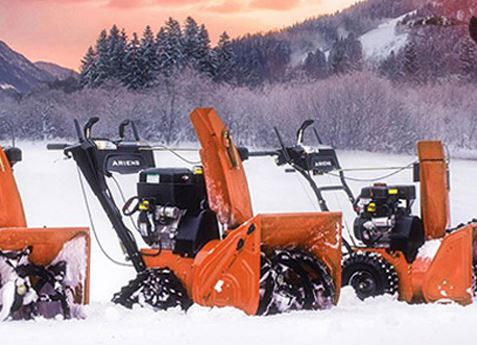 Finding the right snow blower isn't completely straightforward. Gas snow blowers vary in size and functionality, and you'll want to find the best one to help you clear snow for the specific job. Electric Snow Blowers are best for light weather conditions, clearing flat or paved areas near an outlet. Gas-powered snow blowers tend to work better if you need to handle heavy snowfall, rough terrain or large areas.
Gas snow throwers require more maintenance but they're tougher than electric models and come in a variety of sizes. The larger the snow blower, the more power it produces. Electric snow blowers are more far more compact, weighing just over 30 pounds on average, in contrast to gas snow blowers whose weight averages well over 100 pounds.
The most powerful gas snow blowers can plow through a couple feet of snow with a throwing distance of 40 feet or more. The best electric snow blowers, in contrast, clear optimal snow depths of 10 inches and throw snow up to a maximum distance of 30 feet. While electric snow blowers don't have the same power, for certain areas they are more than sufficient and can be the preferable choice for some people.
Electric snow blowers are easy to start and operate and are safe for the environment. The electric snow blowers that plug into a wall, however, are limited in their mobility when compared with their gas counterparts. All electric snow blowers are single-stage so they won't plow through huge piles of snow, but they are well-suited for flat areas with moderate snowfall and specialized areas like decks and patios.
To combat monster blizzards, you need an equally fierce snow blower to clear driveways and common walkways. If winter brings at least a foot of snow to your doorstep, a tough two-stage snow blower is a valuable tool to have. A gas snow blower can help you make quick work of a huge driveway.
Electric snow blowers tend to be the best tools for clearing snow off decks and patios. There are often the best snow blowers for these areas that are more susceptible to being damaged. The auger and paddle in electric snow blowers are made of materials that are gentler to specialized areas like decks and patios and aren't as likely to scuff or damage these surfaces. They have enough size and power to clear up to about a foot of snow. Another plus for electric snow blowers is these areas are closer to wall outlets than most outside space, so if you are relying on cord power there won't be a problem with running out of cord.
The Ariens Compact 920021 is a gas blower with bulk. The Ariens snow blower has features like 15-inch tires, electric start and 2-foot clearing width. The Ariens packs a punch and will clear as much as 2 feet of snow over all types of terrain. Yet when it comes time to store it away, it fits into relatively compact space with handles that fold in and a lower-than-average weight for a big machine.
This Ariens snow blower has a clearing width of 24 inches, meaning it can clear a path 2 feet wide, which is great coverage, especially for a relatively compact snow blower. This will make less work for you and will let you quickly clear snow from your driveway and sidewalk. This snow blower holds half a gallon of gasoline and distributes 208 cubic centimeters through the engine. In addition, the engine produces 9.5 foot-pounds of torque, giving it enough power to throw a lot of snow at once.
For more information on Ariens snow blowers, contact Monnick Supply in Marlborough and Framingham.
toptenreviews.com