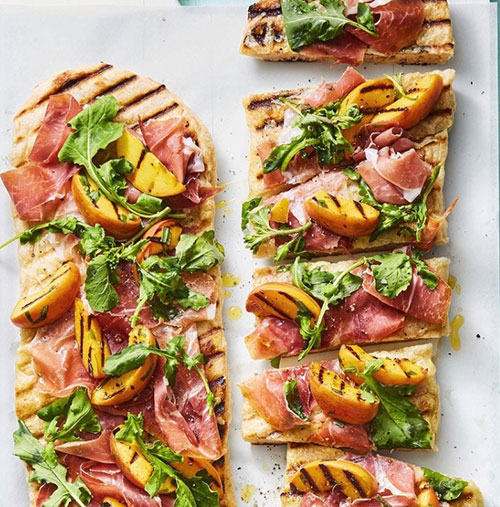 Who knew everything you needed to make your pizzas taste wood-fired was already in your backyard? Fire up your grill to give these flatbreads a beautiful char.
Ingredients:
1 lb. pizza dough
3 peaches or nectarines, each pitted and cut into 8 wedges
1 tsp. olive oil
Kosher salt and pepper
2 tbsp. fresh lemon juice
2 tsp. chopped tarragon
3 oz. Gruyère cheese, grated
2 c. baby arugula
4 oz. thinly sliced prosciutto

Directions:
Heat grill to medium. Divide pizza dough in half and shape each piece into a 5- by 14-inch rectangle.
Toss peaches with oil and 1/4 teaspoon each salt and pepper. Grill dough and peaches until lightly charred, 3 to 5 minutes per side. Transfer peaches to large bowl and pizza dough to cutting board.
Toss peaches with lemon juice, tarragon, and pinch each salt and pepper. Sprinkle Gruyère over dough and grill, covered, until melted, 2 to 3 minutes.
Add arugula to peaches and toss to coat. Top cheesy pizza dough with prosciutto and peach-arugula salad.
Source:
goodhousekeeping.com