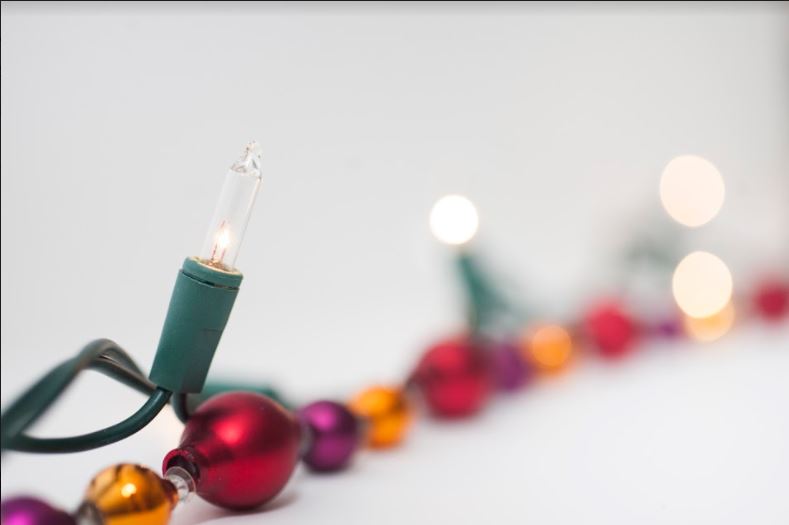 With Christmas just around the corner, you might be wondering what to give those on your shopping list. But have you thought about what to get your yard? A happy yard with a cool Christmas light display puts a smile on everyone who passes by.
Ready to trip the lights fantastic? Here's what you need to know:
All Strung Out
The essence of any holiday lighting scheme is strings of lights you attach to eaves, roofing shingles and gutters. Lighting strings come with as few as 25 bulbs and as many as 200. Lighting clips make installation easy and are designed to work without poking holes in your roofing or trim.
Specialty clips are designed to add lights around windows and to grab onto brick surfaces.
Choose lighting clips based on the size of the bulbs in your lighting strings and to what building part you'll attach the strings. Clips grab the light sockets, so you can position the bulbs upright, hanging down or horizontally.
The Great Debate: Incandescent vs. LED
Actually, the debate is over. LEDs win in every measure except initial price: A string of LEDs costs about twice as much as same-sized incandescent bulbs. But because LEDs are so long-lasting, the price differential is erased after two to three years of use.
Last year for the first time, sales of LEDs surpassed incandescents.
Energy efficiency. LEDs use about 10 percent of the electricity that incandescent bulbs do. An incandescent bulb must heat up its filament to produce light, and about 90 percent of the energy it uses goes to producing heat. LED technology sips energy and produces very little heat, which in turn reduces the risk of fire.
Many types of LED holiday lights meet Energy Star guidelines set by the Environmental Protection Agency.
Longevity. LEDs last two to three times longer than incandescent bulbs. Plus, LED bulbs typically are made of lightweight plastic and less likely to break than glass incandescent bulbs.
Brightness. Incandescents hold the edge, but LED light strings usually feature more bulbs per string. Call this one even.
Like shoes and cologne, Christmas light bulbs have fashion swings. Although mini lights have been by far the most popular during the past decade, larger, more "old-fashioned" bulbs are making a comeback. All styles are available as incandescent and LEDs. Here's what you need to know to be a true bulb fashionista:
Mini lights look like tiny candles with pointed tips. They are about 1/4 inch in diameter and 5/8 inch tall.
C6 bulbs are smallish strawberry-shaped lights that are often thought of as the traditional Christmas tree light. Bulbs are 3/4 inch in diameter and 1 1/8 inches tall.
C7 bulbs have a similar shape as C6s but are slightly larger and rounder. They are 1 inch in diameter and 1-1/2 inches tall.
C9 bulbs are the big brothers of the holiday bulb family, measuring 1-1/4 inches in diameter and 2 1/2 inches tall. They are frequently used in outdoor applications.
G series bulbs are globular and come in a variety of sizes. They're found in everything from table lamps to auto taillights. To figure the diameter of a G series Christmas light bulb, take the number that appears after the G, divide it by 8, then round to the nearest whole number. For example, a G15 is about 2 inches in diameter.
Clear, frosted and patterned glass options add pizzazz to the quality of the light each bulb emits.
Rope lights are strings of mini lights encased in flexible plastic; the entire tube looks like it's lit up. Rope lights are great for wrapping posts and making garlands of colored light.
Lighting Up Outside
String your tree in the evening, with your light strings plugged in so you can see the effect as your build your light scheme.
Evergreen trees look good with bigger bulb sizes, such as the C7 and C9. If you're lucky enough to have a nice evergreen tree in your yard that you'd like to illuminate, the industry rule of thumb is 100 lights per every vertical foot of tree; large trees may need more.
Larger C7 and C9 bulbs are usually spaced 12 inches apart — a good scale when viewed from the street.
Evergreen bushes are candidates for lighting nets — crisscrossed networks of wires and mini lights that are shaped as a grid. Toss a couple of 100-light nets over your bushes, plug 'em in and you've got giant glowing ornaments along your foundation.
Deciduous trees and posts are tempting targets for candy cane spirals of light. Get lights that are closely spaced, such as mini lights or rope lights. On trees, the bark is usually rough enough to hold light strings in place. You can give light strings a little support with strategically placed pushpins, but don't drive in a bunch of screws or nails, as you could hurt the tree.
Posts require a little help. Depending on your tolerance for assorted fasteners peaking out of your exterior trim at all times of the year, you can add cup hooks or small screws. Adhesive-backed lighting clips are another option.
Outdoor Christmas Lights
Want to see your whole outdoor lighting display get down and funky? Music synchronization kits turn your front yard into Santa's disco.
A standard 30-amp plug-and-play system divides your display into 16 separate channels, including weatherproof speakers.
More sophisticated displays run up to 64 channels and include software so you can program your own show and run it off your laptop.
Animated Cartoon Characters
Animated wire frame elves and Santas add a bit of cartoon-like fun to your lawn. You can get penguins that throw snowballs at each other and reindeer that run. The animation can be jerky, like a crude Flash movie, but these are real smile-makers for young kids. Plus, they're big. Some are 6 feet tall and 10 feet wide.
Do you need holiday decorations? Contact Monnick supply in Marlborough and Framingham.
DIY Network