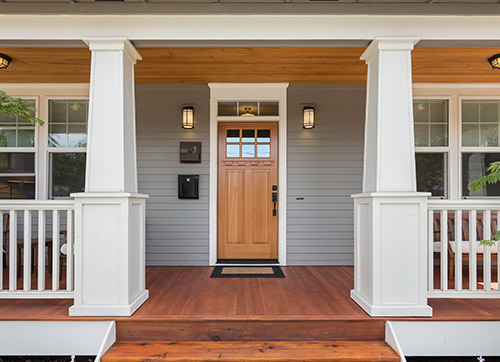 Can you believe the holidays are just around the corner? The holidays make for the perfect time to enjoy yummy food, family and friends in the comfort of your own home. For many, that means it's time to spruce up décor and finish up DIY projects. If you're planning to host this year's festivities, make sure your home is ready to impress your out-of-town visitors. Start prepping your holiday headquarters with this list of ideas:
Add curb appeal
First impressions are a big deal, putting in a new door can make guests feel welcome and improve your home's energy efficiency. A new door installation can be completed quickly if it's in stock at your local hardware store. If your installer discovers water damage or if your frame needs repairing, it may take a few days to complete the install. Whether you're doing it yourself or hiring outside help, this project is an easy update.
Install a new backsplash
One thing there's never a shortage of during the holidays… food! The kitchen is a big part of preparing family favorite dinners, baking traditional treats and bringing everyone closer. Installing a new backsplash is a great way to give your kitchen fresh life that will impress visitors, whether you decide to add a little color or texture or opt for a chic, clean look.
Refinish cabinets
After you've added a new backsplash, take your kitchen to the next level by refinishing your older cabinets to a cleaner, newer look. You'll be surprised by how making this single change can give your entire kitchen a "face-lift.". This can be an easy do-it-yourself project or a quick call to the pros.
Update the guest bathroom
Another busy area during the holidays is the guest bathroom. The easiest way to make guests feel welcome is to make sure the bathroom is an inviting and comfortable room. Obviously stock up on extra soaps and towels to accommodate extra traffic, but if you're looking to go the extra mile, spruce up your bathroom with new fixtures, wallpaper and lighting details.
Fresh coat of paint
The easiest way to change up any room involves a can of paint and a little motivation! Adding a fresh pop of color to a room can elevate the look and feel of an entire space. As a low-cost, easy option, this DIY can really make a big impression on your visitors. If you're having trouble choosing the right color to change up your space, this guide offers plenty of tips to help.
Start from the bottom
Adding new carpeting or hardwood to your home is the perfect way to make your home cozier for the holidays! A subtle, yet bold change can mix up the look of your entire home. This project can take quite a bit of time, depending on the size of your home, so it's better to start sooner rather than later.
With the holidays only months away, getting a head start can get things off your checklist faster! Ready to give your home a makeover just in time to impress the holiday crowd? Contact Monnick Supply, your local independent paint center and hardware store.
Source: Primelending.com