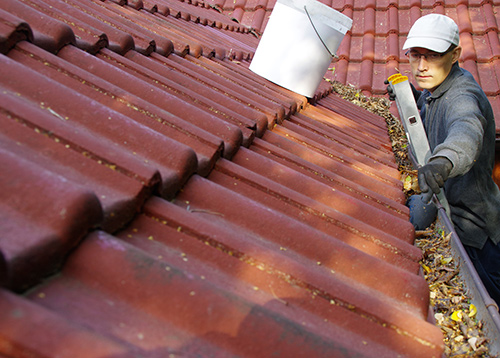 With the arrival of spring and the warm, fresh air, it's time to throw open your windows and dust off the dregs of winter. The change of seasons is the perfect time to evaluate all the home improvement projects you've been putting off and get down to the business of planning. Add these spring home projects to your to-do list as you get your house in order after a long winter.
1. Replace or Clean Your Gutters
You'll want to clean your gutters twice a year: when the leaves have fallen at the end of autumn and again in the spring before the rainy season. Gutter maintenance keeps leaves, dirt, and debris from building up on your roof and clogging the gutters. Clogs can cause water to overflow and damage the metal, as well as trap moisture against your roof and siding.
If the build-up is minimal, you should be able to clean your gutters on your own with just a ladder, rubber gloves, and some elbow grease. Tricky rooflines or multi-story buildings make this job more than an average DIY project, in which case you'll want to hire a local gutter cleaning service.
If the metal is bent or otherwise compromised by age and rust, you'll want to replace your gutters entirely. This is a convenient opportunity to upgrade to deeper gutters and change the color of a primary architectural feature. Contractors typically use sheet metal extrusion rigs to create a seamless look on long runs that is a popular upgrade from older, fitted gutters—or, if you really want to get fancy, you can replace the gutters with copper. You may also want to add gutter guards, which can help cut back on cleaning requirements.
2. Power-Wash Your Driveway
Removing grime from concrete provides instant gratification and dramatically enhances your home's curb appeal. Pressure-washing is relatively straightforward if you have an equipment rental company nearby: For larger surface areas, you'll want to rent a heavy-duty power-washing rig that attaches to a pushable rotary swivel bar mounted on wheels. These pressure washer add-ons completely change the game for how much labor it requires to evenly clean the surface and make even a large driveway doable in a day.
If you have a more basic power washer model, the pressure probably won't be strong enough to drive a rotary attachment, in which case you'll need to manually clean your driveway inch by inch—something that can be as therapeutic as mowing the lawn or as frustrating as picking up sticks. This method is best for smaller driveways or difficult walkways that won't allow the smooth movement of the rotary tool.
Once the concrete is crisp and clean, seal it with a good concrete sealer to help prevent the immediate return of mold and dirt. While sealing the concrete isn't necessary for the overall health of the surface, it does create a more finished look and helps all of your hard work last a little longer.
3. Stain Your Deck
After power-washing is complete, it's time to evaluate the status of your deck. If it's been more than three years since you have sealed it, it's likely time to add another coat of paint or stain for preventative maintenance. If there's flaking or peeling, you'll want to address that immediately with a power-washer or sander to stop the deterioration from spreading deeper into the wood.
Before you stain your deck, make sure there are no loose boards you need to replace, and clean well between any boards that touch each other, as this is a common starting point for fungal growth and wood rot. Once you've properly prepared the surface for a fresh coat of sealer, pick a dry weekend to work and apply two coats if possible.
4. Clean Your Windows
Keeping your windows clean can be a full-time job, and it's easy to neglect this part of your home once you've gotten used to the thin haze of grime that accumulates over time. Take a rag and some glass cleaner to the insides of your windows, and buy a good squeegee and sponge set-up that the professionals use for cleaning the exterior portions of the glass. If you live in a multi-story house, you might want to call a window-cleaning company to get the higher spots you can't safely reach from the ground.
For Help with your DIY home projects, contact Monnick Supply.
Source: angi.com