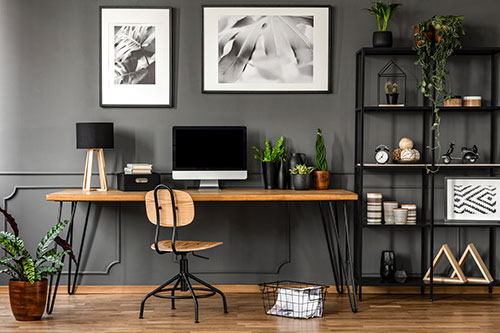 As you plan your next renovation project, it's more critical than ever to know what upgrades increase home value. The world looks a lot different in 2022 than it did a couple of years ago, and our homes have been at the center of massive change and re-evaluation.
Home offices and outdoor spaces, for example, are now extremely coveted features. Our newest list of home improvements that add value takes these recent trends into account and incorporates specific product suggestions, updated for 2022.
1. Convert or build a home office
Since 2009, the number of people who work from home has risen by 159%. In a Fall 2021 survey by HomeLight, 60% of top real estate agents cited a home office as a top priority for buyers in their market, representing a higher percentage of respondents than any other home feature or quality on the list.
Buyers care about a home office more than they care about whether the home is move-in ready or is of a minimum square footage, our survey found. In some cases, buyers are seeking out multiple home offices.
Creating new space or dedicating existing space to a home office is likely going to be a good investment if you're in a market with a decent amount of people who telecommute. Mid-2020 data from HomeLight indicates that a home office adds over $10,000 in resale value, and that number may be even higher now as Americans settle further into their remote work routines.
Creative options could be converting a walk-in closet into a functioning office or, on the more expensive end, building a backyard ADU (accessory dwelling unit) or extension to make room for one. The estimated value an ADU adds to a property has increased from $47,600 before the pandemic to $66,000 by the end of 2021.
2. Finish your basement
If you have an unfinished basement, you might have room for storage, but you're missing out on livable space for future buyers to enjoy — whether as a home office or space for entertaining.
In fact, finishing a basement of 400 to 1,500 square feet has a potential ROI of up to 75%.
You're adding more heated square footage, which bumps up your house into another price bracket.
If finished, a basement can add even more — up to $40,000 or $50,000 to the asking price.
Finishing a basement will run you $18,400 on average, but can cost up to $34,000, largely depending on your square footage. This project involves installing flooring, drywall, and paint, but it creates a "valuable blank canvas" for potential buyers.
For help or more information Contact Monnick Supply.
Source: homelight.com