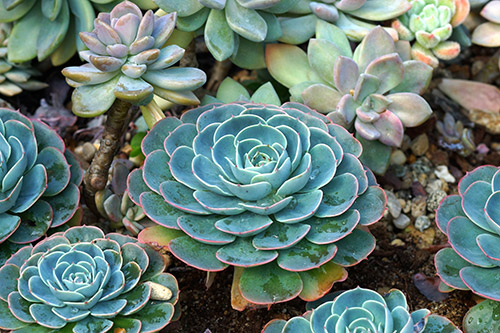 New Year's Eve marks the time-honored tradition of making resolutions for a better year ahead. So, while we all try to keep our personal resolutions for at least two months, why not make some resolutions to spruce up your home? Home improvement resolutions might be easier to stick to than giving up caffeine.
Liven up Your Landscaping
Let's start outside, shall we. You don't need a green thumb to maintain eye-catching landscaping. Once you know your plant hardiness zone, you can plan accordingly. There are many plants and shrubs that require little maintenance that even those of us who struggle keeping a succulent alive can manage to care for.
Speaking of succulents, let's start with a plant that requires virtually zero maintenance. Hen and chicks. You plant it, then leave it. It's that simple. It can be planted in containers or rock gardens and holds up to both summer droughts and sub-zero winters. Hen and chicks are great for new gardeners who might not have the time to stick to a strict watering schedule.
Embrace the power of paint.
A fresh coat of paint can transform any room in your home. You can pick up a gallon of paint for $15 to $30 and one gallon covers about 350 to 400 square feet. If you have some areas that look like they might be hard to cover (discoloration, marker, etc.) try priming before you put your final color on the wall.
You can also use paint to update the cabinets in your home. From the kitchen to the bathroom, painting your cabinets in a neutral tone will help modernize the rooms.
While you're at it, update the hardware on cabinet doors and drawers. Finishes like stainless steel and brushed nickel are timeless and will look great in any room. Matte black pulls can add more a more contemporary finish to your cabinetry. A bit of friendly advice, when changing your cabinet hardware, try to match the finish to your faucet for a more cohesive look.
Free-Fresh Your Home
Want to refresh your home but "micro-renos" aren't in your budget? No worries. We've come up with wallet-friendly home improvements to give your home a free-fresh.
Rearrange your furniture. The way you arrange your furniture can change the entire flow of a room. Start by showcasing a focal point. This can be an existing focal point, like a fireplace, or you can create one with a gallery wall or television. Creating symmetry is another way to spruce up a room. Our eyes are drawn to symmetry, so if you have doubles of anything (lamps, vases, etc.) use them to balance your room.
To make life easier, draw out how you want your room to look before actually moving your furniture. Your back, and friends, will thank you later. You can also plan your rooms with tools like PlanYourRoom.com and the Magicplan app.
Can you hear that? It's the echo of our parents telling us to clean our rooms. Don't tell them, but they were right; rooms do look better when they are organized. This one might take a little extra elbow grease, but it's worth it in the long run, and can even come in handy when you're getting ready to move.
Start with one room at a time and take everything off of shelves and out of drawers so that you can have a fresh look at everything.
Also, by taking everything out of its place, you can decide if each item is a keeper or something that you can part with. Part of getting organized means letting go of some clutter. It's easy to feel overwhelmed when trying to organize so take breaks and remember, things always look messier before they look cleaner.
Need some help? Contact Monnick Supply in Framingham and Marlborough, MA.
Source: PrimeLending