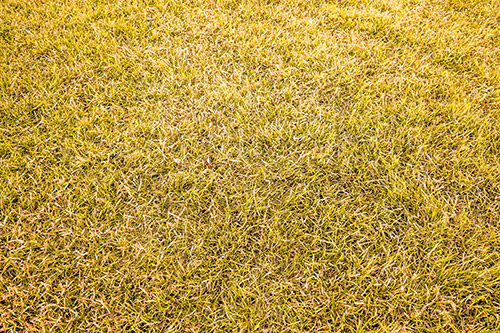 Last week we gave you several reasons why your grass is turning yellow. Today, we'll explain how to fix it.
It's super important to diagnose the yellowing in your grass before you implement any control measures. To solve the problem, you must be sure of it.
Generally, these are the steps for fixing yellow grass:
Add Suitable Fertilizers
If the problem is nutrient deficiency, get a good fertilizer and apply it. Fertilizer treatments must be carried out according to the instructions provided by experts and on the label.
Don't over-fertilize the lawn. If you do this, you'll make the problem even worse. Also, nutrients should be applied in the correct quantities. You must buy fertilizer that suits the environment and the season.
In case you don't want synthetic fertilizer products for your lawn, you could engage organic products like Milorganite Organic Nitrogen Fertilizer. This isn't just a nitrogen fertilizer but also contains essential iron and phosphorus.
Organic fertilizers can spare your blushes. If you use the wrong application method, you may escape any consequences you usually get from synthetics.
Fertilizer applications should be made at the recommended rates. After applying it, make sure you water the grass to help the granules dissolve into the soil for plant uptake.
Use The Right Amount Of Water
When applying water to your lawn, consider how much of it goes into the process. Too little or too much can harm your lawn.
You need to water your lawn depending on moisture status. If there's enough moisture in the soil, you don't have to water the lawn.
If there's a serious drought, regular watering is required to avoid sunburn. The best time to water is in the early mornings. Late evenings can be tricky given the accumulation of dampness and wet conditions at night.
Control Lawn Pests And Diseases
Proper regular maintenance is the best way to prevent pests and diseases on the lawn. If you scout your lawn frequently, you can identify any budding pest problems like eggs in the grass.
To help your grass recover much quicker, address the pest and disease problems immediately. Once you see the symptoms, don't waste more time but control them.
Primarily, suitable insecticides are used to control bugs such as chinch bugs. Ensure the insecticide you're using to kill the harmful bugs is safe for use.
Good examples of these chemicals include Ortho BugClear Insect Killer for Lawns. Alternatively, you could use Talstar XTra Granular Insecticide. The two insecticides are excellent killers of chewing insects.
Grubs are hard to control, though. But chemicals like Scotts GrubEx1 effectively eliminate them thanks to the chlorantraniliprole ingredient that's friendly to the environment and safe for humans.
Fungal infections are more common on the lawn. These could be a brown patch, grey spot, among others. To treat these conditions, make sure there are no damp conditions on the lawn. Above all, apply suitable fungicides like DiseaseX and Spectracide Immunox Fungus Plus.
Improve Lawn Drainage
Too much water in the soil can cause serious problems, as we have already seen in earlier sections of this post. It prevents root respiration, leading to poor root development. This means that your grass grows weaker.
If good drainage is implemented in the lawn, you're less likely to see these problems. However, make sure to seek the services of a lawn care professional to help you with implementation.
Regular Lawn Maintenance
The ultimate support you can give your lawn is preventing the causes of yellowing. This can easily be achieved when frequent maintenance is enhanced.
Scout regularly for any potential issues. Check for nutrient deficiencies and use the right equipment to mow your lawn. You can aerate your lawn with aeration products to help compacted soil loosen up.
Any excess grass trimmings and leaves on your lawn should be removed. Keep the lawn as clean and free of the foreign material as possible.
If there is any competition on the lawn, remove them. These could be common lawn weeds. They compete with grass for critical resources such as moisture and nutrients. Make sure to thin excess trees. This exposes the lawn to enough sunlight.
Mow Grass With Sharper Blades
The grass can turn yellow right after you've mowed it, mostly during spring or autumn. This is a widespread occurrence, and when you see it happen, check your mower blades because they're blunt.
You can control this problem by sharpening the mower blades to get clean cuts.
Use Professional Service
Some things can only be fine when using professional services. In that regard, getting a lawn care service provider can be of great help.
These are experts that can help on diverse issues that affect the lawn. They'll spend time analyzing your lawn and even provide you with an actionable plan on how to care for it the best way.
If there are potential issues on your lawn, the lawn care expert can also help forecast them and give you appropriate advice.
Can Yellow Grass Become Green Again?
When your lawn is turning yellow, it can be a huge letdown, especially if you don't know how to handle the negative process. But can yellow grass become green again?
Generally, yellow grass can become green again if mitigation measures are implemented immediately during the initial stages. If you can reseed your lawn in the patched areas, adjust the watering regime to favor proper growth, your grass can become green again.
It doesn't end there, though. Fertilize the lawn well and treat lawn diseases. You'll be surprised after a couple of days because your lawn can regenerate and look green like before.
All these practices should be implemented as soon as you start seeing yellowing symptoms. So, don't wait until the entire lawn is discolored. There's a higher cost implication if you delay these amendments.
There's something about mowing grass with sharper blades. For some reason, sharper blades leave neat cuts on the standing grass. This grass regenerates with great vigor. Blunt blades leave open injuries on the grass, making them vulnerable to infections.
So, by making clean cuts, you allow the grass to grow greener. If you can get a reel mower to cut grass in your lawn, you'd get better cuts that eventually result in greener grass sprouting.