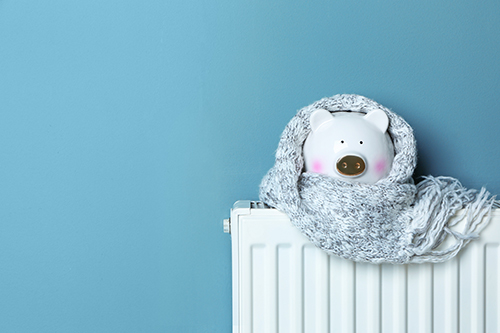 Winter is rearing its ugly head, and so are home heating costs. The television and web are full of great ideas on saving money on energy costs, but more often than not, it takes money to save money. For many, spending money on major home improvement projects to make a home more energy-efficient just isn't in the cards.
However, you still have options. You do not have to spend a bunch of money to cut your heating costs. You can save money on energy bills without breaking the bank spending from nothing to very little. Follow these ideas and say good-bye to shocking heating bills.
Bundle Up
Running around with shorts and a tank top in the middle of winter doesn't make much sense—even when you are indoors. Winter is winter because it is cold, so act like it even if you're sitting around the house. Put on a sweater or sweatshirt, wear socks, and fuzzy slippers. It doesn't cost anything to wear warmer clothes inside, and by doing so, you can keep the temperature inside the house a few degrees cooler and save big.
Place a soft, comfy blanket on the couch and chairs to cuddle up in while you watch TV, read, or chat with friends. Not only will they provide warmth, but they can also add a spark of color to an otherwise blank space.
You can lose heat from your home through the floors as well as windows and doors. Put throw rugs on hardwood and tile floors to eliminate the shock of the ice-cold surfaces. Place non-skid pads or runners under the throw rug to keep them from sliding and keep you safe.
Plastic Cover the Windows and Doors
Not all exterior doors are used in the winter, nor are the windows. Use plastic to cover the windows and doors that go unused. There are window kits for sale at big-box stores such as Walmart, Home Depot, and Lowes. As of 2019, these kits will run between $7 and 12 per window.
Kits for doors will be more costly and can run between $20 to over $100. Some building supply stores may stock these, or you may have to seek out an online supplier. Some kits come with built-in zippers for occasional use.
These window and door coverings can help to eliminate drafts to keep in the heat. If you can't afford the kits or plastic sheeting, try hanging blankets to help insulate. The primary downside to this fix is that it can obscure the view and light from a window.
Turn the Heat Down
Turn the heat down at night and when no one is home. Some smart thermostats can be programmed with the hours you are normally away from home and automatically adjust it back up before you return. The cost of a smart thermostat will vary by the manufacturer but plan on spending at least $130 plus installation. Or, you can adjust the thermostat manually for free.
Now, turning down the heat doesn't mean turn it down to 40 degrees or lower. If you live in cold climates, you need to consider keeping your water pipes warm. However, turning it down to 60 overnight or while you're away can make a big difference. Sleep.org suggests keeping bedrooms between 60 and 67 degrees Fahrenheit for the best night's sleep. They suggest 65 to 70 degrees for babies and toddlers to help them sleep through the night.1
Save Money by Leaving the Oven Door Open
After baking cookies or making dinner in the oven, leave the door open a crack. There's a lot of heat in that oven, so letting it escape puts the heat to good use by warming up the kitchen and surrounding rooms—meaning the furnace has to run a little bit less.
Use a Space Heater Sparingly
Use a space heater in a safe manner. Only use portable heaters in the current room where you are hanging out. Be sure not to place them too close to anything that can catch fire easily and watch them for overheating. According to the Consumer Product Safety Commission (CPSC), around 1,200 fires happen per year from portable electric heaters.2
Never leave a heater running when you are not home or while you are sleeping. Keep these appliances at least three feet from curtains, sofa, beds, and combustible items. Place them on flat, stable surfaces, so they don't fall over. Watch for recalls of heaters and only buy safety-certified heaters. Finally, when running the heater, make sure the cord, wall outlet, or plug does not feel warm to the touch. If it does feel hot to the touch, unplug the unit. Do not use it again until it has been checked by a repair person.
Low-end, low wattage space heaters can cost between $30 and $50, while larger and higher wattage heaters can cost over $100.
Caulk Your Cracks and Plug Your Holes
Use silicone to fill any cracks in doors, windows, and other openings. Sealing cracks include the seam along the basement floor and walls. You would be surprised at how much heat is lost through cracks that seem insignificant. A tube of caulk or silicone will only run you a few dollars, and it's an easy weekend project.
Plug any holes in walls to limit heat loss. Speaking of holes in walls, electric outlets, and light switches can be insulated to prevent heat loss. Use expanding spray foam to seal between the metal outlet box and the sheetrock. Trim off the excess and replace the cover.
Partially Close Vents
Many people will close or seal the heat vents in rooms they aren't using. While this might seem like a good idea, you could cause the excess of air pressure in the HVAC system and damage it. Your heating system is designed to push a certain amount of warmed air into the home. It does this by constantly circulating air out and into the system. When you restrict the air leaving the system, it can cause pressure leaks in the ducts. It also makes your system work harder and will burn out parts quicker.
It is best to leave the vents in these unused rooms partially open to allow for circulation and protect your very expensive heat pump system. The same concept applies to the door of the unused room. Leave it open or only partially closed.
Install Weather Stripping
Put weather stripping around windows and doors. Weatherstripping is a flexible product that is usually self-adhesive. There are several types of stripping on the market, so be sure to buy the one that will work best for your application and hold up to the wear and tear it may experience.
Seal the tops, sides, and bottoms of doors and windows. Also, seal the access to attic spaces. You can also install door sweeps—also called shoes—on the bottom of exterior doors. This step will lessen the amount of air that escapes through that crack.
Weatherstripping helps quite a bit, especially in older homes. The price of this product will vary by the type you need to use but runs around $10 for a 10-foot roll. Door sweeps will cost more.
Insulate Your Attic
Cover up the attic entry with plastic, pieces of insulation, old blankets, weatherstripping, saran wrap, painter drop cloth, or even a few old shirts. Any of it will help slow, if not, stop, the drafts, and warm air from floating away through your roof. Heat rises and maybe getting pulled right up through the attic, so you may not notice a cold draft even though your expensive hot air is floating away.
Old Fashioned Common Sense
Finally, if you have a ceiling fan, it can help to move warm air from the ceiling back down into the room. Fans should rotate clockwise in the winter. Run the fan on the lowest setting.
All of these tips are good, old-fashioned, common sense thoughts that only take a few minutes and maybe a few dollars to implement. True, these actions won't save you thousands, as all new windows would, but they will help you to save as much as possible with what you have.