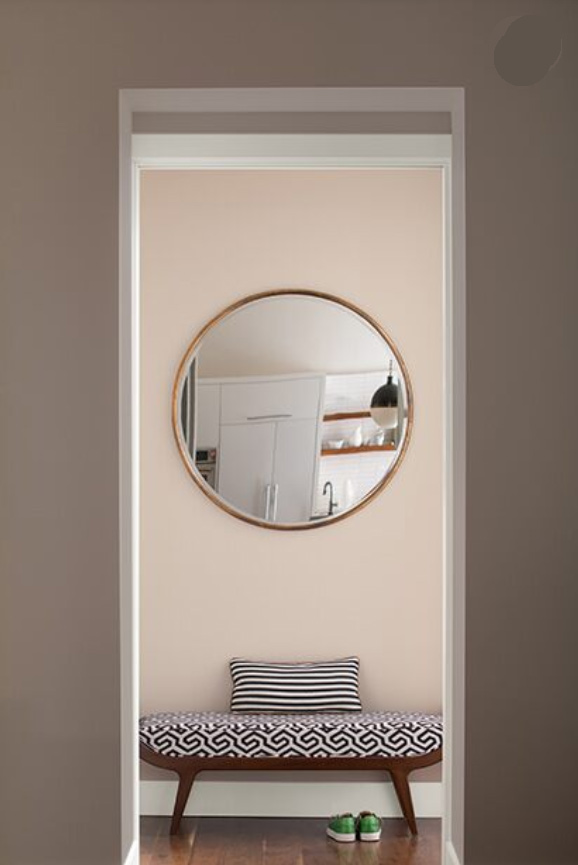 It's time to upgrade this utilitarian space with hallway decor, from gallery wall art, to a delicate settee, to a just-right entrance table. Add in our hallway paint ideas and get ready to transform these diminutive spaces into colorful, eye-catching corridors.
Hallways and other small spaces create a color story from room to room. Read on to see some of our best hallway paint colors based on six different hallway styles.
1. Neutral Hallway Paint Colors: Versatile & Classic
"Neutral hues provide optimal versatility and flexibility between the hallway and the rooms it connects to," says Arianna Cesa, color and design expert at Benjamin Moore. Some of our favorite neutrals and grays for hallways include Wind's Breath OC-24, Collingwood OC-28, and Silver Chain 1472.
For hallways connected to rooms in blues, greens and purples, look to cooler grays or River Reflections 1552 and Amherst Gray HC-167.
If your home tends towards warm tones–reds, oranges, yellows–try warmer neutrals or white paint colors with warm undertones. Favorite warmer neutrals include Sparrow AF-720 and Edgecomb Gray HC-173.
2. White-Painted Hallways: Crisp & Clean
White paint colors are a steadfast choice for hallways, but why not mix and match?
"Layering different white paint colors on walls and trim creates contrast and depth," says Arianna.
3. Accent Walls: The Ultimate Hallway Wall Decor
Longer hallway? Amp up the drama and draw the eye with a wow-worthy accent wall.
Trim, in rich, dark hues provides an elegant design element in any interior space. Ebony King 2132-20, not only outlines the striking statement windows it pulls the sightline to the bright red feature wall at the hallway's end.
Other hallway accent wall colors we love include Charcoal Slate HC-178, Pinot Grigio Grape CSP-460, and Wasabi AF-430, from our Affinity® Collection.
4. Show-Stopping Hallways
If you use bold paint colors throughout your home, why not pull your zest for color into the hallways?
Connect multiple spaces using vibrant hallway hues right from your front door. Consider a saturated hue like Delicate Rose 2008-50 to brighten up any hallway, and use pink-tinged Whitewater Bay OC-70 on the ceiling for a perfect pairing.
Other paint colors we love for statement-making hallways include Tea Room AF-270, Stokes Forest Green 2035-40, and a favorite Benjamin Moore dark color, Van Deusen Blue HC-156.
"Whether you go with bolder color or not, if you have a vestibule or entryway that is separated from your hallway, consider painting both the same color for continuity," adds Arianna.
5. Hallways Without Natural Light
When it comes to windowless hallways, your selection of warm or cool light bulbs is critical since lighting always sets the mood.
For a dark, dramatic hallway, look to hues like Flamenco CSP-1195, Champion Cobalt 2061-20, and Caponata AF-650. Use dark glamour design touches like opulent wall sconces and luxurious runners to set off deep jewel tones, and add mirrors for extra dimension.
Looking for airy paint colors as a substitute for natural light? Layer lighter and mid-toned paint colors. Pashmina AF-100 buoyed by Vapor AF-35 on the side walls create an elegant, welcoming corridor.
While there's no single best paint color for a dark hallway, illuminating colors we love include Lychee AF-40, Silken Pine 2144-50, and Swiss Coffee OC-45.
6. Hallways with Stairs
"If you have a multi-level home, it's important to consider the colors used on both floors when choosing a stairwell hue," says Arianna.
Monochromatic neutrals blend effortlessly in contemporary space. In the living room, Tamarind AF-120 offers a dusky, deep hue, with Steam AF-15 bringing fresh balance to the stairwell and upper walls.