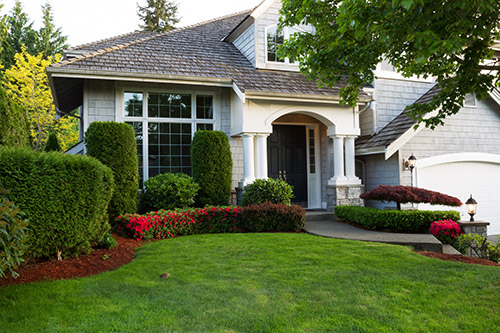 Summer is in full swing and that means more outdoor time than any other season! If you love the great outdoors, remember you don't have to travel beyond your property line to enjoy it. Below are some great tips to keep in mind when it comes to planning and working with your home's landscaping.
WATERING
Do:
Water in the early morning when the air is cool, and less wind allows better coverage.
Keep an eye on weather reports to turn off automatic sprinklers so they don't turn on when it rains.
• Install slow drip systems or use a soaker hose for gardens and landscaping to help water get to the deep roots and reduce evaporation.
Don't:
Overwater, which can drown plants, grass, wash away fertilizers and hurt plants or landscaping with shallow root systems.
Water at night when they are more likely to stay wet overnight, which can promote fungus and disease.
Water your lawn to the point where you create runoff.
LAWN CARE
Do:
Mow your grass higher in the summer to help shade the soil, reduce water evaporation, prevent weeds and promote deep root growth.
Wait for cooler fall temperatures before putting down weed control.
Plan ahead to apply a pre-emergent herbicide in the spring to prevent weeds from growing next summer.
Don't:
Try to control weeds. Most herbicides (weed killers) are not recommended for temperatures above 85° when they can damage plants and your lawn.
Throw away grass clippings. Remove the mower collection bag so they stay on your lawn or spread them on the grass to provide beneficial nutrients.
Leave equipment, toys and even the hose on the grass very long. It will smother and kill the grass beneath them quicker than you think.
GARDENS
Do:
Rotate vegetables. Plant them in different locations each season to prevent diseases and keep the soil healthy.
Plant drought-resistant plants that are hardy and will require less water.
Use organic pesticides and weed control only. Marigolds, peppermint and rosemary in pots provide a natural and attractive deterrent against common garden pests.
Don't:
Work with the soil when it's wet. This can destroy the soil structure, leave the dirt clumpy, create air pockets and create root problems.
Plant any fall, cool-weather plants until the temperatures change for good and they'll grow best.
Place fertilizer directly onto plants. Keep it 3-4 inches away from plants where it will slowly break down into the soil.
LANDSCAPING
Do:
Plan to plant landscaping that requires the least amount of work, or only requires the type of yard work you enjoy doing.
Pay attention to weeds. Pull them up regularly, and never let them go to seed.
Landscape with plants that complement or reflect the surrounding area, natural vegetation and local environment.
Don't:
Fertilize trees, shrubs or landscaping plants in the late summer. It encourages growth when they're getting ready to go dormant for the fall and winter.
Allow tree limbs, shrubs or bushes to grow over the roof or up against your home. This will prevent damage to your house and make regular pruning easier.
Be afraid to get rid of old or overgrown trees or shrubs. They can overwhelm the yard, obscure views, crowd other plants, or create insect and maintenance problems.
We hope these tips and tricks are helpful as you keep your outdoor oasis picture-perfect! If you're looking for help with your yard, contact Monnick Supply in Marlborough or Framingham.
Source: cphostaccess.com