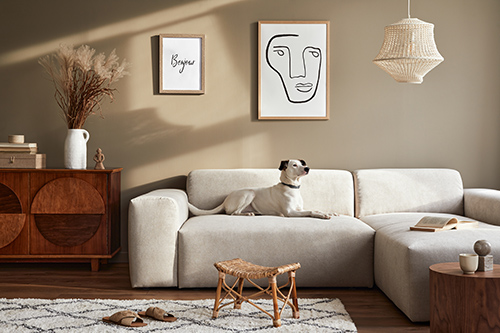 Here are a few ideas on remodeling your living room. There are two types of living rooms: the one that people actually live in, and the formal-type room that only gets used a few times each year. The latter rarely gets worn out, and is more likely to simply go out of style. The first room is designed for living. Ensure your makeover is appropriate.
Create the living room of your dreams:
Art & Lamps. A great way to liven up a living room is with art and unique lighting with table lamps. There are numerous options available, and many are very inexpensive.
Reupholster. New furniture can be expensive, but purchasing some fabric and reupholstering your furniture can be done for a very reasonable cost.
Worn-out cushions? Furniture-quality foam can be used to spruce up an old couch or chair. Use the old cushion as a model and cut a new one.
Window treatments. Those little metal or plastic Venetian blinds are handy and functional, but not particularly attractive. Wider, wooden blinds that are more attractive can be part of a $1,000 makeover budget. Stylish curtains are also a nice touch.
Walls. Of course, you can go the paint or wallpaper route. But what about texture? Try using metal, textured ceiling panels on a wall and then paint. What about painting one wall a unique color and keeping the other three a little tamer?
Flooring. A living room is conducive to a wide variety of flooring options.
Carpeting and laminate flooring are easy to install with a few simple tools. The costs can vary depending on the type of flooring.
Real wood flooring is usually more costly and requires a more precise install. It also requires maintenance.
Tile is a unique option for a living room and requires little in the way of tools beyond a tile saw, which can be purchased or rented.
Rug. Think about buying an area rug to put over your existing floor. It really changes the look of the room, and the cost can be minimal.
Ceiling. Many nice homes have a unique living room ceiling. Your local hardware store has ceiling tiles that can create a dramatic effect.
Trim. Although most trim is very inexpensive, it has a profound effect on the appearance of a room. If you want to make a statement, you might want to try putting trim around the ceiling rather than just around the floor. This will make your home stand out from other homes.
The living room is a great room to choose for a makeover. Your family likely spends every evening in this room. If you're making over a room, it only makes sense to start with one that you spend a lot of time in.
Include all the family members in the planning of your new family room. Kids sometimes have the best ideas. Need help? Contact Monnick Supply.
Source: realestateofmass.com