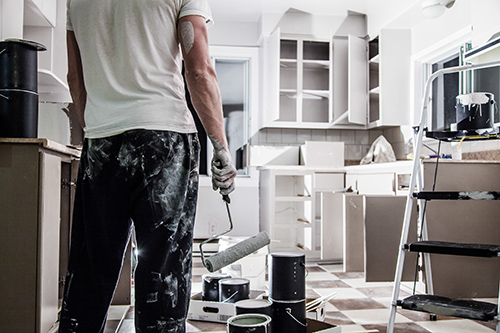 Start with assessing the type of furniture you're painting and the space it will live in. What is your design style? Do you want to make a strong statement? Or simply give a well-loved piece of furniture a subtle update? Whether you have sleek laminate pieces or treasured antique ones, a fresh coat of paint is transformative.
Premium Exterior Paint Brings Indoor Furniture Outside
The power of high-quality exterior paint gives beloved indoor pieces a second life in the great outdoors.
Choosing Your Furniture Paint Color
With thousands of paint colors to choose from, how do you select the best color for painted furniture?
Look to other items in the room or in open, adjacent rooms for inspiration. Artwork and textiles are great sources of color inspiration as they often have several hues woven in. On the other hand, painted furniture can become a work of art, so consider this an opportunity to select a fun palette of colors that you might not feel comfortable with on the walls.
Lighting, Sheen and Painted Furniture
No matter where your painted furniture will live, the amount of light it gets throughout the day is an important factor in choosing the perfect color.
Lighting plays a crucial role in color perception, so viewing your options in the correct lighting condition will help avoid unwanted color surprises. Test out your options with an 8 oz. color sample, available online or at your local store.
Consider your choice of sheen as well, especially when painting older furniture. Lower sheens are often selected for vintage pieces because they help mask blemishes and reflect a piece's old-world charm. Higher sheens tend to accentuate imperfections, and are therefore more appropriate for smooth surfaces that command a shiny, lacquered look.
The Best Product for Painted Furniture
When it comes to the best paint for furniture, go with a product that delivers a durable, straight-from-the-factory finish. ADVANCE® Interior provides outstanding coverage and hide, and is great for camouflaging minor imperfections. Easy to apply and easy to clean, the result is a high-end, furniture-like finish.
The premium quality and performance of ADVANCE makes it the ideal paint for wood or laminate furniture.
For help choosing paint, contact Monnick Supply.