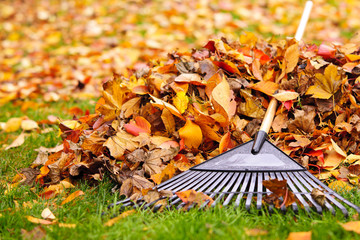 It's not welcome news, but it's inevitable: winter IS coming.
Why it's important to prepare your lawn for winter
Your lawn is no use when it's brown or covered by a blanket of snow, but a lawn's transition to fall and winter is one of the most critical seasonal changes to its health. Preparing it for dormancy by checking the following items off your lawn care list today will help it bounce to life more quickly and grow healthier when spring returns.
Steps for preparing your lawn for winter
1. Mitigating chances for snow mold
Thatch is the layer of dead grass that falls to the soil bed. Some thatch is good, especially for winter insulation, but lawns overrun with thatch are prone to winter injury. There are preventative measures that can be taken to reduce the risk of snow mold – one being dethatching.
Dethatching is pulling the layers of dead grass from a lawn bed. This can be done in one of two ways: raking is a cost-effective measure in reducing thatch from a lawn bed, but depending on the size of your lawn, this could take several hours. For faster results, look into renting or buying a dethatcher, which is almost like a powered rake. A dethatcher uses thin, flailing tines to pull thatch from lawn beds quickly.
In addition to helping reduce the potential for snow mold, dethatching helps lawn soils breathe better, promoting stronger roots and helping grass survive winter more effectively.
Homeowners can also aerate their lawns to help avoid snow mold. Core aeration pulls cylindrical plugs out of the lawn, loosening the soil and stirring up the microorganisms that help break up thatch.
Aeration also has benefits beyond preventing snow mold and the spread of lawn fungi. In nearly every region of the country, fall is prime time for core aeration because fall is also the best time to seed a lawn. Seeding and aeration together is the most effective for growing new grass.
2. Improving soil pH
A soil's pH level is its measure of acidity or alkalinity, and if it's within its pH range of 6.5 to 7.0, which is in the slightly acidic to neutral range, its chances of surviving winter are much stronger.
Testing your lawn's pH level can be done on your own with a kit from a gardening store.
If the soil is too acidic (pH 0 – 6), add wood ash to your lawn. If the soil is too basic (pH 8 – 14), add sphagnum peat to your lawn. Just be aware that it may require some tilling to fully incorporate the sphagnum peat into the soil and for it to take effect. Another option is to add fine mulch and compost to your lawn.
3. Eliminate weeds before winter
Steps can be taken before and during the winter to help prevent weeds next spring. An interesting fact about weeds and cold weather is that weed control is more effective in the fall. When perennial weeds feel winter approaching, they move their food storage from their leaves to their roots. So, as you shower those weeds with an herbicide or vinegar spray, they move their own poison to their central nervous system – their roots – which kills them more effectively.
4. Remove Leaves Before Snowfall
There's actually purpose in raking leaves from a yard beyond aesthetics. It's for the health of your lawn.
Leaves block sunlight, smother the grass and prevent moisture from evaporating from a lawn. If fallen leaves aren't just depriving your lawn from sunlight, they're also creating an environment that promotes lawn disease. This can be especially impactful in regions with snow, because as with excessive thatch, leaves can trap snow's moisture and cause disease and fungi like snow mold.
Options for raking include actually raking, lawn mower mulching kits for leaves, lawn mower baggers for leaves,
5. Fertilize
Added strength from fertilizer can help your lawn weather a long winter. The most important things to do before applying any fertilizer or nutrients to your grass is understanding your grass type and knowing the pH level, or level of acidity/alkalinity, in your soil.
6. Keep off the grass!
For the first time ever, there might be some sense behind the scolding from your cranky neighbors. Grass is much more vulnerable in it's dormant state, and while it may seem harmless, consider your grass' short, brown and uninviting appearance as your own queue to keep off the grass. Even if the ground is completely frozen in northern regions and think it's impossible to hurt it in that state, it's still possible.
7. Remove annual plants
Annuals die every year, and if left behind, these dead plants become luxury condos for lawn- and garden-killing insects to thrive and reproduce. Before winter starts, pull up the dead plants entirely – including their roots. Remnants can be discarded in the trash, or better, in your compost pile.
8. Mulch the perennials
Like grass, other perennials in your yard might appear to be dying when cold weather moves in, but they're merely going dormant. Be confident they'll return to brighten your yard in the spring, even if they're trimmed down to the surface level. Trimming dormant perennial vegetation is suggested because it helps keep its roots intact through the winter.
9. Fixing bare spots in your lawn
Fall isn't too late to think about overseeding, which is filling in bare spots of your lawn with grass seed. In fact, fall is one of the best times for cool-season grasses to grow and thrive. By overseeding now, you'll help ensure a full-lush appearance in your lawn when spring returns.
To improve the effectiveness of overseeding, sprinkle grass seed around your yard right after aeration. When grass seed falls into holes created by aeration, they sprout more effectively.
Source: ariens.com