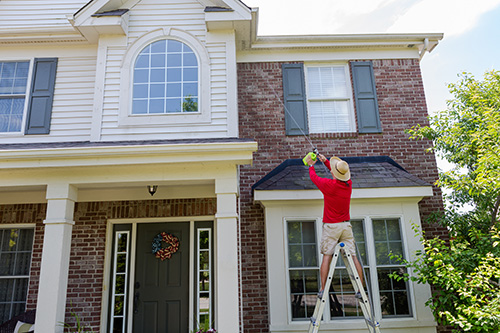 Just because you can't see the dirt and grime on the exterior of your home doesn't mean it's not there. The accumulated dirt isn't a reflection of your home maintenance ability. It just happens. Like it or not, your house is always exposed to the elements.
But that doesn't mean you have to sit idly by as grime dulls your beautiful home. Instead, you can use a pressure washer to remove years of dirt and bring your home's exterior back to life.
Sounds easy enough, right? Hold up. There's a caveat.
Pressure washers can cause damage if you don't know what you're doing. It's important to do your homework before getting started. And if you've never used a pressure washer, you've come to the right place.
Ready to get started on your own project? Keep reading for a crash course in power washing.
Gas or Electric Pressure Washer?
Pressure washers work by using a pump to increase the pressure of water flowing through the attached hose. That pump can be powered by gasoline or by electricity.
There are pros and cons to both options.
Gas Pressure Washers
Gas-powered washers typically provide higher PSI (pounds of pressure per square inch) and GPM (gallons of water per minute) than the electric version. That extra power means they clean surfaces much more quickly.
Pros of Gas Pressure Washers
Gas-powered pressure washers can produce a wide range of PSI and GPM levels. Not only can they clean faster and more efficiently than electric models, but you'll have more options.
Gas pressure washers are cordless. If you aren't near a power outlet, you'll still be able to work.
Cons of Gas Pressure Washers
Gasoline engines—even small ones—require consistent maintenance. You'll need to periodically change the oil and make sure you use the proper fuel additives if you plan to store the machine for an extended period of time.
Gasoline engines are louder than electric engines. Plus, they produce emissions. Also, you should never use a gas-powered pressure washer indoors or in covered spaces.
Electric pressure washers
Electric washers can be more convenient than their gas-powered peers in some circumstances. Plus, you don't have to worry about gas fumes.
Pros of Electric Pressure Washers
Electric pressure washers do not produce harmful emissions. If you had to, you could use one indoors—though you would want hearing protection and a reliable way to remove the water.
An electric engine means you don't have to worry about oil changes and other maintenance tasks.
Cons of Electric Pressure Washers
An electric pressure washer simply cannot produce the power of a gas-powered model. If you need to clean a large or especially dirty area, an electric pressure washer will take much longer to complete the job. (And you may not see the results you hoped for.)
Because they require a power outlet, electric pressure washers are not as portable as gasoline versions.
What Size Pressure Washer is Best?
Regardless of whether you choose a gas or electric pressure washer, you'll also need to make a decision about the size of the engine.
Like any other engine-powered machine, the size of the engine determines the total power of the unit. A small engine will not be able to produce the water pressure or the gallon-per-minute output of a larger engine.
Generally speaking, pressure washer engines are categorized in four ways.
Light-Duty Pressure Washers


Light-duty pressure washers produce water pressure levels under 2,000 PSI. If you only plan to clean the occasional outdoor household item, a small deck, or a patio, a light-duty electric pressure washer is perfectly sufficient.

Medium-Duty Pressure Washers


Planning to clean your home's siding, driveway or fencing? You'll want a medium-duty pressure washer. A pressure washer of this size produces water pressure levels between 2,000 and 2,800 PSI.

Heavy-Duty Pressure Washers


If you know you'll be cleaning large areas of concrete or needing to reach a second story, a heavy-duty pressure washer may be your best bet. Heavy-duty pressure washers reach pressure levels of between 2,900 and 3,300 PSI.

Professional Pressure Washers


Planning to do a lot of pressure washing? Are you preparing your home's exterior for a repainting job? If so, consider investing in a professional-grade pressure washer. The extra-heavy-duty engine is designed to handle big jobs that take hours to complete. These power washers produce water pressure levels of 3,300 PSI and higher.
Regardless of which pressure washer you choose, remember to take the GPM measurement into account, too.
Which Nozzle is Best for Your Job?
While the size of the pressure washer's engine determines the machine's overall power, the nozzle you choose determines the angle of the water stream.
The angle is important because it affects what the water stream can do. A narrow-angle spray is more powerful than a large-angle spray.
Nozzle Color Coding
Luckily, pressure washer nozzles are universally color-coded.
Red Nozzles
A red tip is the narrowest angle—zero degrees. This tip creates a water stream that can do a lot of damage, so be careful. Don't use a red-tipped nozzle up close on any surface.
Yellow Nozzles
Yellow tips create a spray with a 15-degree angle. Reach for this nozzle when you need to pressure wash concrete around your house.
Green Nozzles
A green tip produces a 25-degree spray. This works well for all-purpose household pressure washing. This is the nozzle to use if it's time to wash your car or clean mildew that's accumulated on your patio furniture or deck.
White Nozzles
Perhaps the most user-friendly nozzle, a white tip produces a 40-degree spray. Use the white tip if you're planning an exterior home cleaning day. A white-tipped nozzle is suitable for windows and siding.
Black Nozzles
Producing a spray angle of 65 degrees, a black nozzle is the gentlest. In fact, this spray is so light that it typically won't remove dirt or stains. Instead, use this nozzle when you just need to wet a surface.
Specialized Nozzles & Attachments
For even more efficient cleaning, consider using an attachment that was designed specifically for the job you need to complete. Here are some popular pressure washer attachments.
Surface Cleaner
This attachment uses a spinning bar to distribute the high-pressure stream of water over a larger surface area than a single spray. This is helpful for cleaning large sections of concrete, like a driveway.
Rotary Nozzle
Also called a turbo nozzle, a rotary tip produces a spinning zero-degree water stream. This nozzle is especially useful for removing difficult stains and grimy buildup.
Pressure Washing Broom
Similar to a surface cleaner attachment, a pressure washing broom divides a single water jet into two or three jets for more power and a larger cleaning area.
Expandable Wand
An expandable wand will give you more reach when you need to clean surfaces up high without using a ladder.
Soap/Detergent Reservoir
A soap/detergent reservoir attaches to the pressure washer and adds cleaning solution into the jet of water. Be sure to use the right nozzle for this job. A water stream that's too strong will force soap into the surface, which can cause damage.
How to Pressure Wash
Pressure washing can be a messy job—and dangerous if it isn't done correctly. It's important to take the time to adequately prepare.
Pressure Washing Safety Tips
Here are the safety tips we recommend for beginners and pros alike.
Eye & Hearing Protection
Pressure washers are loud. Plus, the high pressure of the water means debris and water will spray back toward you. Be sure to wear eye and hearing protection.
Use Both Hands
Until you gain confidence with the pressure washer, hold the wand securely with both hands so that it won't fly out of your grip.
Don't Get Too Close
Keep the spray tip approximately 18 inches away from the surface you're cleaning to minimize the risk of damage.
Ready to rent a pressure washer? Contact Monnick Supply in Marlborough or Framingham, MA.
Source: bestpickreports.com