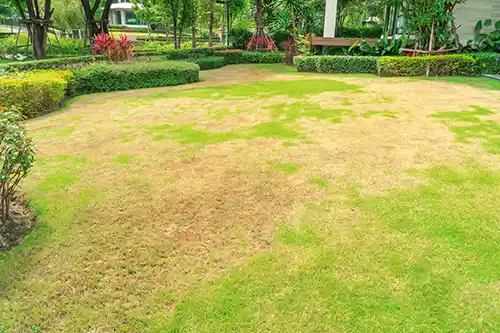 Transfer Select Crops to Pots to Allow for Controlled Drying
What if simply letting your garden dry naturally after overwatering isn't an option? For instance, you have discovered that further rain is expected in the forecast or that recently your garden was literally flooded with water. You can always select the crops that you highly value, transfer them to pots, and then move them inside (i.e in a garage) during rain to allow them to truly recover.
Create a Trench Along Your Garden's Perimeter to Prevent Additional Flooding
If your garden has recently received a large amount of rain and you're expecting more, you may need to create a plan to prevent oversaturated soil conditions. As with anything in gardening, it's always best to try to solve an issue before it becomes an emergency. One option is to create a trench along your garden's perimeter to channel away excess rain water from your plants.
Do Not Till Your Garden When the Soil is Wet
As discussed earlier, excess water occupies pockets in the soil and limits the amount of oxygen available to your plants. Because of this, you may be tempted to go in and till your garden soil after a huge rainfall to create more pockets for air to go into. Do not do this! Tilling wet soil actually ends up compacting the soil, rather than loosening it up. In fact, this action will press soil particles together, creating even less space for oxygen!
Lightly Fertilize the Top of Your Garden Soil
If your garden recently went through a heavy rain and has become overwatered, consider adding fertilizer and organic matter to your garden.
It's not unusual for nutrients to be washed away by a heavy rain or flooding. By sprinkling fertilizer on the top of the soil, you're adding these nutrients back to your soil.
Also, consider adding organic matter, such as compost or manure, to your soil. Organic matter does the following two things to help overwatered soil:
Organic matter acts as a sponge by naturally soaking up water and storing it for future and long-term use. Basically, organic matter will increase the natural absorbability of your soil and thus decrease the pooling of water around your plants' roots.
Source: homefreshharvest.com