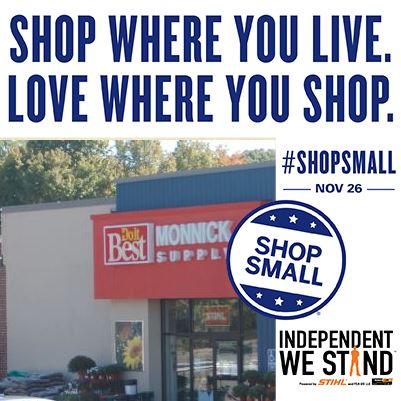 Whether it's the corner café with the delicious dark roast or the record store down the road that sells vintage vinyl, we all have a favorite small business. Monnick Supply is proud to support Small Business Saturday, the day dedicated to celebrating these beloved businesses.
Let's help make this Small Business Saturday one of the biggest yet. Here's what you can do:
GO OUT AND SHOP: Make sure to support the businesses in your neighborhood on Nov 26
SHARE YOUR SUPPORT: "Like" and share posts from Small Business Saturday and Independent We Stand Facebook pages to get friends and family to #ShopSmall
JOIN IN: Visit ShopSmall.com to get more ideas on what you can do for the big day
Get out and Shop Small to make an impact on your community. Thanks for your support! To learn more, visit ShopSmall.com or IndependentWeStand.org.
For more information about our family owned hardware store in Framingham and Marlborough or Small Business Saturday, contact us.