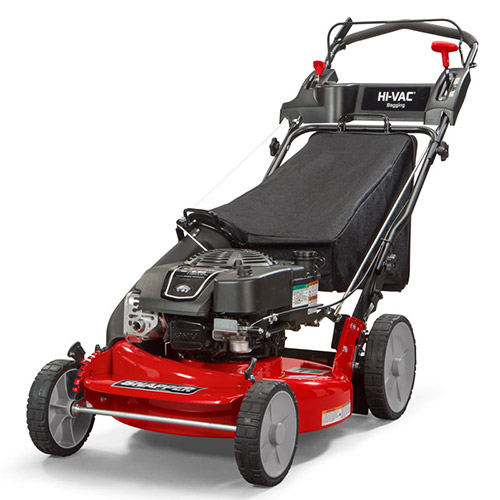 A great mower for bagging fans, the HI VAC® Mower Deck with its vacuum-like suction efficiently cuts and bags your grass. HI VAC Walk Mowers give your yard an ultra clean finish. This Snapper 21" walk-behind lawn mower also features a rear wheel drive system with high 10" rear wheels for superior traction on hills and thick grass. The reliable Briggs & Stratton Professional Series™ OHV Engine keeps you going strong with professional-grade features, including ReadyStart® technology, quieter operation and increased durability.
Dependable Power
The Briggs & Stratton Professional Series™ OHV Engine combines professional-grade power and performance with homeowner-friendly ease-of-use. Strong, quiet and durable, this engine comes standard with the ReadyStart® starting system: No priming. No choking. Just pull and go.
Grass Gripper Mower Traction
Rear-wheel drive improves walk-behind mower traction. The smooth-turn differential helps ensure easy maneuverability without damaging your grass.
Efficient Bagging
Similar to a vacuum, the HI VAC® Mower Deck efficiently cuts and sucks up grass clippings for a clean finish. The secret to the HI VAC® mower's cut is its unique blade and rolled deck edge that generates a large volume of air and creates suction.
Comfort Zone
Whether it's the speed select or the cup holder, the operator zone has everything within easy reach.
Durable Construction
Rugged solid steel front axle and stamped steel mower deck provide long-lasting performance season after season.
Better Maneuverability
10" high rear wheels easily glide through tall, thick grass.
Easily Pick the Cut
Change the height-of-cut with easy-to-use adjustment handles. Select the ideal cutting height for your lawn.
Tried and True
Snapper's proven disc drive transmission is a dependable speed adjustment system. Its higher wheel torque and control provides improved speed control on hills and helps pull through thick grass or rough terrain.
For more information on Snapper Lawn Mowers, contact Monnick Supply in Marlborough and Framingham, MA.