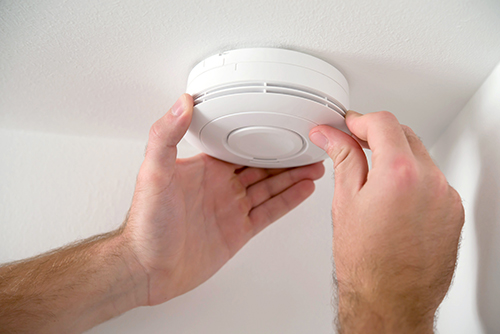 Daylight saving time is upon us and you know what that means, time to spring the clocks forward! While you're changing your clocks, it's also a good time to take care of the small home maintenance tasks that you've been putting off.
Easy Home Maintenance Tasks to Get Ready for Spring
Sound the alarm (and detector). Keeping your smoke alarms and carbon monoxide detector in good working condition is important to keep your household safe. These devices typically have a test button that you can press and hold until you hear the siren wailing, making sure you can hear it from other rooms in the house. This is also a prime time to change the batteries so that you have peace of mind knowing your detectors and alarms are in tip top shape. (Bonus fire prevention tip: Make sure your fire extinguisher(s) are ready to go in case of emergency.
Flip for better comfort. One of the best parts of making a home your own is having your "comfy zones." Make sure your relaxation spaces stay in tip-top shape by flipping things around, and I don't mean rearranging your rooms. Flip your mattresses to even out the wear patterns and rediscover your love of sleeping. Have a favorite couch cushion that is looking a little sat out? Flip it over or swap it with one from the other end for a refreshed look.
Filter out the bad. Throughout the year the various filters in your home can get full of gunk and there may be more filters than you think. Keep your air fresh by cleaning or changing your AC and furnace filters, this can help keep allergies at bay. While you're at it, clean out your dryer vent too. Change or clean your range hood filter to fight grease build up and swap your water filter out to keep your water lines clear. (Pro tip: Don't forget the little filters like your coffee maker, fridge, and water pitcher.)
Freshen up your fridge. Gone are the days of having to defrost your freezer, thankfully. But you should still give your fridge a refresh at least once a year. Toss out the leftovers you forgot about, get rid of the food that's gotten freezer burn and, if you have an automatic ice maker, dump the old cubes to make room for some fresh ones. Take the time to wipe spills and food off your fridge shelves to combat any weird odors in the fridge.
This is a BRIGHT tip. If you had to get a ladder out to change your clocks, keep it out. Now is a great time to change the light bulb that has been out for over a month. While you're at it, change the bulbs that have gotten dim and dust your lighting fixtures for an added spruce.
Need help with home maintenance, contact Monnick Supply.
primelending