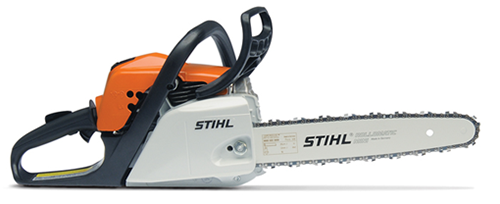 STIHL chainsaws are German-engineered and built in America. STIHL also goes a step further and custom manufactures their own guide bars and saw chains for all their machines in-house. This ensures STIHL chainsaws meet standards in design and performance - standards that have made STIHL the clear choice for professionals and homeowners, making STIHL the #1 selling brand of chainsaws worldwide.
Homeowner Saws
Dependable chainsaws for cutting tasks around the home
If you're looking to choose a chainsaw for work around your home, STIHL has you covered. Most STIHL chainsaws come with anti-vibration technology to minimize vibrations and help reduce fatigue, STIHL Quickstop® Chain Brake for additional safety, and a Master Control Lever™ to make start-up easy.
Battery Saws
STIHL battery-powered chainsaws bring the best of both worlds to your property. First, they deliver strong, consistent power thanks to their 36-volt Lithium-Ion technology. They're also significantly quieter than gasoline-powered chainsaws and start instantly with the squeeze of a trigger. It's big performance in a small, cordless package.
For more information on chainsaws, contact Monnick Supply in Marlborough or Framingham, MA.