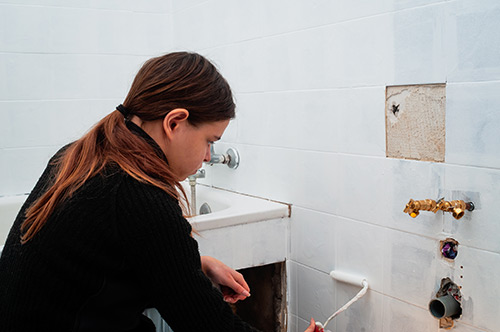 Why Are You Considering Painting vs. Retiling?
There are several reasons for repainting tile including giving an outdated bathroom a cost-efficient style update; home staging for an upcoming prospect visit; or maybe wanting to turn a bland, tiled wall into a colorful focal point. Knowing what's most important to them—whether it's cost and timing, the finish details, or long-term durability—is an important first step.
What Are Your Expectations for the Project?
Painting tile is typically something homeowners opt for as an economical alternative to replacing it. This is where you can level-set expectations.
Where Are the Existing Tile Surfaces Located?
If they are in a bathroom, kitchen, or laundry room, your best bet will be painting over tile on walls and vertical surfaces that are not in high-traffic areas and do not have direct exposure to water.
Keep in mind:
Painting tile is not necessarily a long-term solution. When it comes to performance, there's no substitution for regular ceramic tile which is known for its durability and can last for years.
What about contrasting grout lines? Repainting tile means grout lines will be covered up and the individual tiles will be less defined. If the grout lines are going to be missed, repainting may not be a great option. Check out photos online of repainted tile walls to set expectations on the final look.
What are the challenges and prep work involved? Glossy tiles are among the more difficult substrates to prep for top coating. If they are cracked or chipped, they will need repair work before painting, which can add time to the job.
For more information, contact the paint department at Monnick Supply in Framingham and Marlborough, MA.