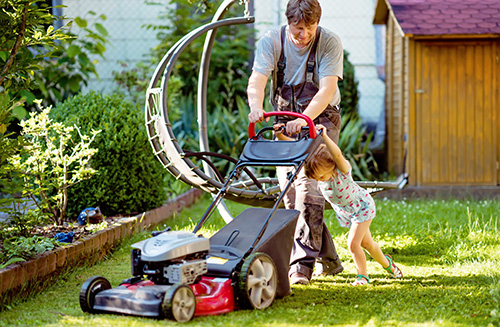 1. Mow High
Gorgeous summer lawns start with long, deep, healthy roots that snake through soil to find moisture. The surest way to encourage deep roots is by mowing high—as high as you can for your type of grass. Sharpen mower blades at least once a season to ensure a clean cut on individual blades of grass, which helps reduce moisture loss.
2. Treat for Grubs
Apply Scotts® GrubEx® if you had a grub problem last year, spot an invasion of beetles in early summer, or know that a neighbor is fighting grubs. These pests munch their way through grass roots, resulting in dead patches in an otherwise healthy lawn. Time your application for before or just after grubs hatch, usually in late spring or early summer.
3. Water
To keep grass green, healthy, and growing, provide at least 1 inch of water per week, either through irrigation or rainfall. Time irrigation for early morning (between 6 and 10 a.m.) to minimize water loss to evaporation.
4. Feed
Both warm- and cool-season grasses benefit from summer feeding. Apply Scotts® Turf Builder® Summerguard® to help fuel warm-season grasses' intense growth period and keep cool-season grasses from folding under heat and drought. When used as directed, it can also help protect your lawn from insect attacks.
Need help with lawn care products? Come visit Monnick Supply today!