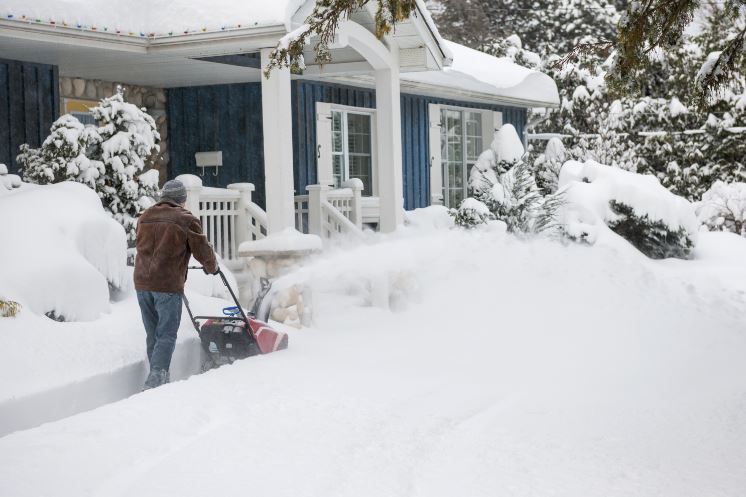 Winter is here and the snow won't stay gone for long. We've had some snow already, but we all know that February can be brutal in Massachusetts. You might be considering buying a snow blower. But don't run out and buy one without first doing your homework. Packed with power and built to last, an Ariens snow blower can quickly clear driveways and sidewalks with ease.
Whether you're looking at for a lightweight, compact single stage snow blower or need more powerful performance, Monnick Supply has the snow blower for you.
Single-Stage snow blowers - Clean up after light to medium storms of up to 9 inches of snow with these machines, which pull snow in using just the auger.
Single-stage snow throwers are smaller than two-stage models, making them great for sidewalks or smaller driveways in urban environments.
While these machines can only handle light to moderate snow fall, they're often the preferred choice because of their durability. Ariens offers a single-stage Path-Pro snow thrower with features such as steel side panels, robust and sturdy wheels and a protective rear guard, all of which increase the machine's durability, ensuring that it will be ready to work when you are.
When you're clearing snow, you need a piece of equipment that is able to throw snow effectively and with power. Ariens Path-Pro models feature an engine with a high output and throwing distance. Models with a 208cc engine are able to throw snow up to 35 feet away.
Another reason to choose a single-stage is because these models are very easy to service. All of the models in the Ariens Path-Pro family are designed with easy access to common service points such as the oil drain, spark plug and carburetor.
Two-Stage snow blowers - Two-stage machines are ideal for removing wet, heavy snow up to 18 inches deep. They have engines for impressive snow removal speed, throwing distance, and plow-pile clearing.
In Massachusetts where heavy snowfall is common, a two-stage snow blower may be a better option, as these models can handle any amount of snow.
First and foremost, Ariens units are built with durable, long lasting components. Also, two-stage snow throwers are preferred among consumers. Ariens is known for its durability. From its all-steel construction to fully welded serrated augers to the cast iron gear case, each model in the Sno-Thro lineup is built to withstand the work for several years.
Another consideration for the two-stage is throwing distance. In instances when you need to throw snow farther, a two stage will be your best choices. Ariens super high output can throw snow up to 50 feet.
Additionally, two-stage snow throwers tend to come with upgraded feature options like hand warmers, quick-turn chutes and auto turn, making them easier and more comfortable to use, especially during long days.
For more information on snow blowers, contact Monnick Supply.
Consumer Reports/Ariens