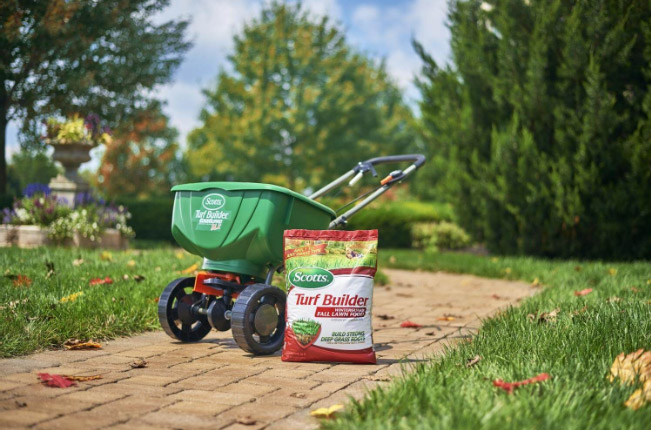 1. Clean Up
Kick off spring lawn care with a quick spring cleaning. Grab a lawn rake to rake out dead grass and dead remnants of annual grassy weeds, like crabgrass, goosegrass, and barnyard grass. Pick up any sticks or other debris that have accumulated on the lawn over winter.
2. Mow High
Double-check your mower deck height, and position it to cut grass at the highest possible setting for your grass type. Cutting high encourages grass plants to grow thicker with deeper roots, which creates a lawn of healthy grass that will help to crowd out weeds.
3. Apply Fertilizer
Lawns wake up from winter dormancy with an appetite. Here in Massachusetts, apply Scotts® Turf Builder® Triple Action. Not only will it feed and strengthen your lawn, but it also kills weeds like dandelion and clover and prevents future weeds. Feed again two months later with Scotts® Turf Builder® Lawn Food to keep grass lush and strong. With all products, be sure to follow label directions.
Be sure, too, that you have just the right spreader for your lawn. The super-simple Scotts® Whirl™ Hand-Powered Spreader is great for small yards, while the larger Scotts® Turf Builder® Edgeguard® DLX Broadcast Spreader will easily cover lawns up to 15,000 square feet. For even bigger lawns, turn to the Scotts® Elite Spreader, which can hold enough fertilizer for up to 20,000 square feet.
4. Beat Weeds
Spot-treat dandelions or wild violets using Scotts® Spot Weed Control For Lawns. This weed killer controls weeds without harming grass. By spraying, you avoid disturbing grass roots and unearthing dormant weed seeds, both of which can happen when you hand-weed.
5. Patch and Thicken
Repair bare spots in both cool- and warm-season turf using Scotts® Bare Spot Repair Products. Timing is crucial for success: Aim for an early spring sowing for cool-season grass and a late spring sowing for warm-season grass. If your lawn is worn and thin, thicken it by overseeding. In the north, overseed with Scotts® Turf Builder® Thick'R Lawn™ , a product specially designed for thickening up thin lawns that combines grass seed, fertilizer, and a soil improver into an easy-to-use product that is applied with a Scotts® spreader. In the south, use the appropriate Scotts® Turf Builder® Grass Seed product for your grass type, and get your new grass off to a good start by using Scotts® Turf Builder® Starter® Food for New Grass.
For more information, or for Scotts Fertilizer, Weed Control, and other lawn care products, contact Monnick Supply, offering free local delivery in Marlborough and Framingham.
Scotts.com