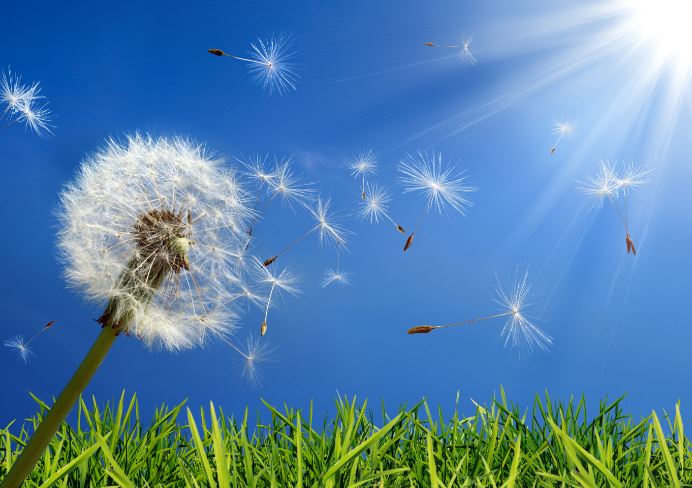 Are you going to love your lawn this year with quality products? What plan of action are you going to follow for your lawn care program? It's February, but just like Charlie Brown's Christmas tree, you need to show your lawn a little love.
Did you fertilize the grass enough last year? Lawns need to be fed during the peak growing months from spring through fall to look their best. If you only apply lawn food once or twice per year, that is not enough to have a healthy growing lawn. Lawns like to be fed three to four times a year based on the type of fertilizer you are using. The first feeding of the season in spring is important because it brings your lawn out of winter dormancy. If you have a history of crabgrass in your lawn, use Green Up with Crabgrass Preventer to help prevent this problem. Sometimes it is best to delay this application until late spring to gain better control over summer germinating crabgrass. Be sure to feed your lawn again before summer arrives with Green Up Weed and Feed. Early fall and late fall feedings with Winter Survival are also great times to improve your lawn's health and growth.
When the grass starts to green up in spring and needs to be mowed, you are already reducing the possibility of weeds filling in bare spots. If bare spots are present, they will be invaded from weed seeds which are already in the ground. Rake up leaves, twigs and debris and re-seed bare spot areas that suffered winter damage. Buy quality grass seed such as Black Beauty Ultra. If you need to apply grass seed and want to preventer crabgrass too, be sure to use Crabgrass Preventer with New Seeding Fertilizer.
Are you are having trouble growing a great lawn because you have too much shade? All grass seed needs some level of sunlight to grow, try removing some trees or at least trimming some branches back to allow more sunlight to reach hard to grow shady areas. Maybe you have salt damage from applying too much ice melter? You can neutralize the soil is these areas with Love Your Soil. Love Your Soil also helps to loosen hard pan or clay soils. It may take 2-3 applications over the year to correct severe problem soils. Love Your Soil can also help correct soil problems from dog urination.
If your soil pH is incorrect, you will have trouble growing a healthy lawn. Your pH level should be between 6.2 and 7.0 for best lawn growth. Get a soil tester from your local lawn and garden or hardware store or you can also get a good quality soil test kit from your local county extension office. Apply Mag-I-Cal for Acidic Soil to raise soil pH and Mag-I-Cal for Alkaline Soil to lower soil pH. In the eastern section of the country, most soils tend to be low in pH value.
If you have not addressed these issues outlined above, you need to this year. Growing any plant successfully requires reasonable quantities of quality soil, nutrients, light and water. The basics to have a good, healthy lawn are still the same, use quality seed, improve soil structure, correct pH levels, feed regularly and water and mow properly. Flower and vegetable gardens reward us with nice colors, flavors and a comforting feeling; sometimes lawn maintenance can become a chore that we hate to do since lawn cover large areas. Remember, your lawn needs a little love just like the rest of your yard.
Contact Monnick Supply in Marlborough and Framingham if you want to grow a great lawn this year.
jonathangreen.com