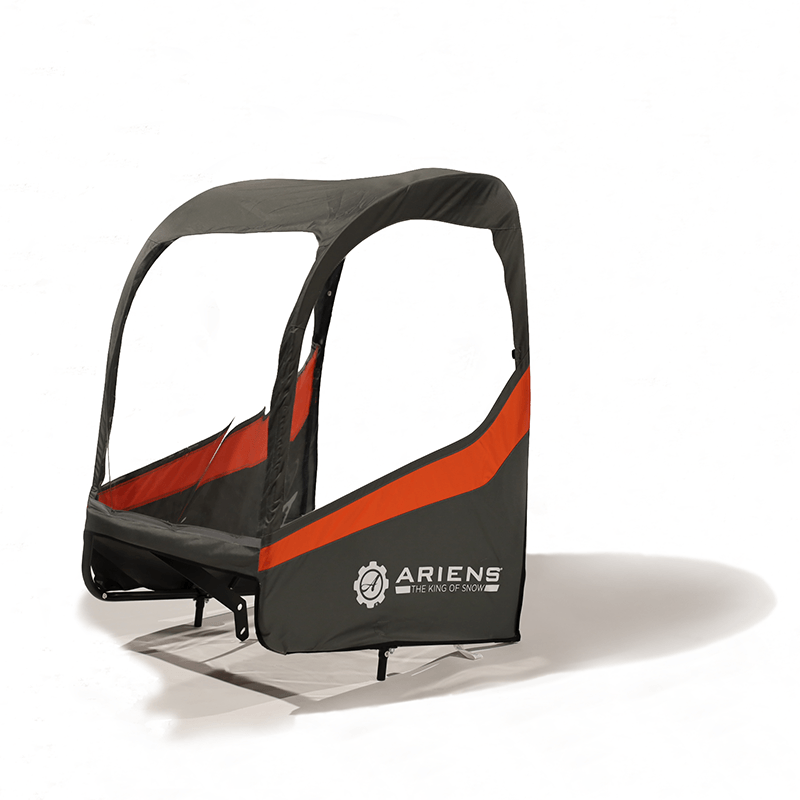 When winter blows a fresh foot of snow across your driveway, you want your snow blower to be performing at its best. Adding some accessories to your snow blower can make it even easier to manage your winter wonderland. Here are some of our favorite snow blower accessories to level up your machine.
Replacement LED Headlight Kit
Ariens OEM LED headlight replacement kit to be used on select Compact, Deluxe, Platinum, Professional and Power Brush models, years 2011 and newer. Replacing your old halogen headlight with a brighter LED kit will enhance visibility for the operator and will make you more visible to nearby traffic during nighttime hours.
Ariens Snow Blower Cab
The Ariens snow blower cab attaches to any Ariens two-stage snow blower to provide the user with protection from wind and snow blowback. The cab enclosure offers front, side, and top protection while operating your snow blower.
Composite Skid Shoe Kit
Constructed of durable polyurethane material, the Ariens OEM Non-Abrasive Skid Shoes resist wear while providing protection from scratching and marring of decorative surfaces. These skid shoes fit all Ariens two-stage models. This kit includes two skid shoes and the necessary hardware.
Drift Cutter Kit
Attack heavy snow drifts with the Ariens Deluxe drift cutters. The cutter bars are designed to direct snow into your snow blower's auger housing (not included) for quick discharge. This kit fits Ariens Deluxe, Platinum and Professional models. This kit includes two cutter bars, four clamping knobs, and the necessary hardware.
Heated Handwarmer Kit
Maintain precise control in the harshest of winter conditions with the Ariens OEM heated handgrips. These easy to install handgrips feature an ergonomic design for comfort with sure-grip technology so your gloves maintain their grip. This kit fits Ariens Classic, Compact, Deluxe, and Sno-Tek models. Included in this kit are two heated grips, one harness, one on/off switch, and the necessary hardware.
Snow Blower Cover
Designed to protect your investment, the Ariens professional snow blower cover provides year-round protection for your snow blower. Ariens covers are constructed of tough, durable, washable, and tear-resistant denier polyester.
Sno-Thro Maintenance Kit
This OEM snow blower maintenance kit is made to be used on Ariens Deluxe, Platinum and Professional models. This OEM kit will help to keep your Ariens snow blower performing at industry leading levels by completing routine maintenance using these factory authorized parts and products. This kit includes three shear bolts with nuts, Fuel stabilizer, one 32 oz. Ariens 5W30 engine oil, and one 4.25 oz. can of snow jet.
Floor Mat
Protect the floor of your storage area from gas, oil, rust spots, and scratches with this heavy-duty floor mat. You can store your Ariens snow blower with peace of mind knowing that this 36 in. x 36 in. durable rubber mat is under your equipment.
Tire Chains
Get added traction on hills, ice and hard-packed snow with Ariens snow blower tire chains. Features superior two-link spaced cross chains that are 16 x 8. These chains fit Ariens snow blower and Power Brush models with 16 x 8 tires.
Front Weight Kit
Ariens 10 lb. snow blower front weight kit equalizes weight distribution and holds the scraper blade closer to the ground. This kit is designed to enhance operator comfort and add extra weight to your snow blower allowing for a better-balanced machine. This weight kit fits select Ariens Sno-Tek, Classic, Compact, Deluxe, Platinum, and Professional models. This kit includes the 10 lb. weight and the necessary hardware.
Looking for a new snow blower this winter? Contact Monnick Supply.
Source: ariens.com