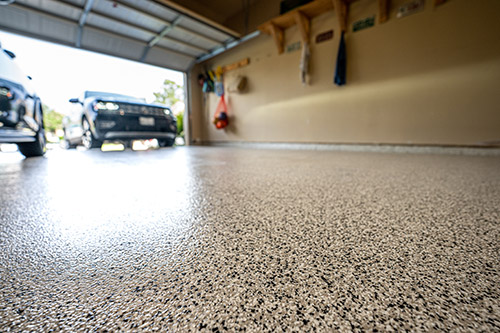 Give rooms, paneling, or cabinetry a fresh coat of paint
Paint is an inexpensive update for many homeowners. Many things can be painted. Old tile can be painted. Paneling can be painted. Older-style cabinets… Just those little things can really make a difference.
Manufacturers offer the best deals on paint during the late fall and winter. Winter also is when professional painters have fewer clients, which translates to lower prices. What's more, there's less moisture and humidity in the air during the winter, which means paint bonds to surfaces better and dries faster.
There's no need to open all the windows, either. With low-VOC paints, using a fan to ventilate the room is fine. It doesn't need outside air; it just needs circulation.
Paint the garage floor
A garage floor free of oil spots, grease, and rust stains looks impressive. Lowe's has a detailed guide for removing garage floor stains, as well as sealing and painting the floor to prevent future staining, minimize concrete dust, and make sweeping a snap.
It's one less project you have to do in spring to get your house ready to sell.
To paint, you'll need to choose a water-based floor epoxy or a solvent-thinned epoxy created especially for garage floors. Try a Solid Concrete Stain, which combines stain and sealant in one product and has a low-sheen protective finish.
For more information, contact the paint department at Monnick Supply in Framingham and Marlborough, MA.
Source: homelight.com