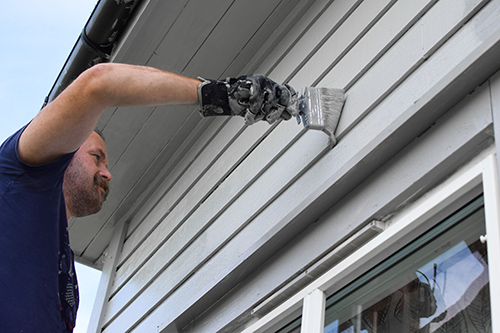 What can I do in one weekend with a $1000 budget to make an improvement?
Many projects are brought to mind but your house has an exterior, too. Remember that everyone can see your yard and the outside of your house. If you want to improve curb appeal, this might be the place to start.
Paint: With a $1,000 budget, painting is the only exterior option that works. Whether your home is brick or siding, it can still be painted. Even vinyl siding can be painted with the appropriate paint. All that's required is a few brushes and a ladder, in most cases.
Mulch: Mulch is cheap, or even free in some cities during certain times of the year. Those old flower beds will look a lot better with a layer of mulch.
New numbers: Every house ought to have the address clearly posted. It's easier for the pizza delivery person, fire department, and the police to find your house. There are even a variety of different font options that add to the overall look of your house.
New mailbox: It's not uncommon to see a beautiful home with a mailbox that looks like it was run over by a truck. If the mailbox is in good structural shape, consider giving it a coat of paint.
Flowers, shrubs, trees: Depending on the variety and season, these are inexpensive ways to add to the curb appeal of your home. Ensure that you're purchasing plants that will thrive in your particular soil and climate.
Planters: Whether under a window or sitting on your patio, planters are attractive, mobile, and inexpensive.
Clean up: Many yards would benefit from a simple clean-up. Trim the grass around the house, trees, fence, and driveway. Pick up all the sticks. Then, plant grass seed on the bare patches. Pull the weeds. Fertilize the lawn. Keep the grass cut to the proper length. Pick up anything else that doesn't belong in the yard. Throw out the broken porch swing and toys that nobody uses anymore.
Many of these tasks are entirely free and only require sweat equity.
When the weather is nice, landscaping and other outdoor projects can be very enjoyable. Consider the weather and season when planning your outdoor makeover activities. It can be tough to do gardening or painting in the middle of a thunderstorm.Need help? Come visit Monnick Supply today!
Source: nemoves.com