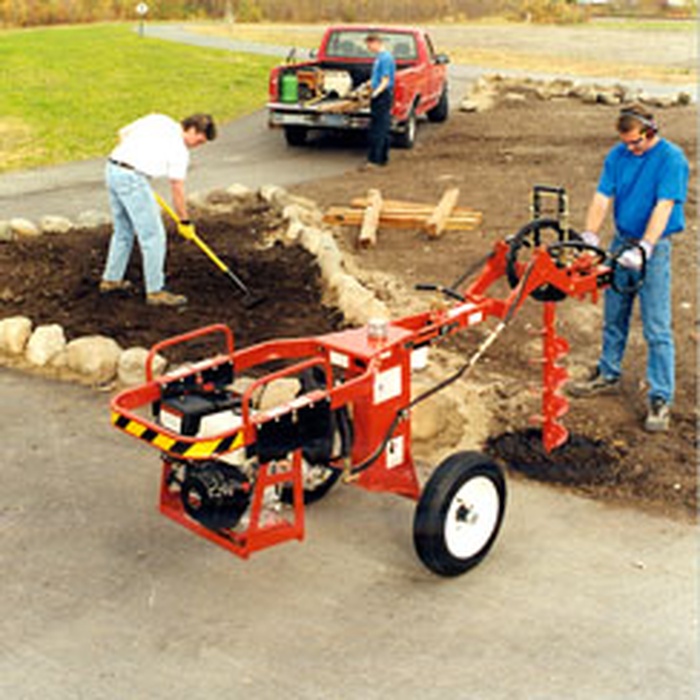 Earth Auger
Post Hole Auger Towable
660 DIG-R-MOBILE® TOWABLE HYDRAULIC HOLE DIGGER
One man operation. Tows at legal highway speeds. Includes quick attach towbar with adjustable ball coupler and 4.80 x 12 wheels and tires with separate hubs. High performance, 8 GPM hydraulic system also operates popular HTMA Class II hydraulic tools for added versatility. Features the largest oil reservoir in its class for maximum system cooling. Exclusive Snap-Lok® Auger Storage system eases maneuvering on the jobsite. Forward and reverse auger direction. 8" Bit $8.00 additional 12" bit $12.00 additional.
POWER SOURCE
Type: Honda Horse Power: 13HP Starter: Mechanical rewind Fuel: Gasoline, unleaded automotive grade
TRANSMISSION
Type: Totally-enclosed, grease- lubricated Nominal Auger Rotation Speed: 144 RPM, no load Drive shaft Connection: 1-3/8 inch (35mm) Hexagon (General), 7/8 inch (22mm) Square (Ground Hog®), or STIHL®- type Maximum Drilling Torque: 276 ft. lbs.
AUGER
Diameter: 8" *Extention: 15" Non-flighted plain tube, depth to 45" $5.00 Extra *For a 12" Auger Please Add $12.00
Rental Prices
Day- $105.00 / Week- / 4 Hours- $84.00
Request a Quote