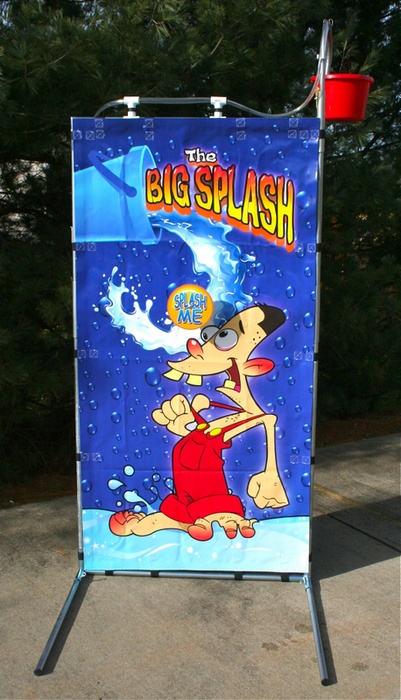 Big Splash Reverse Dunk Tank
Water Game. An alternative for a dunk tank.
Instead of the person falling into the water, the water falls on them!
PERFECT FOR ALL AGES
NO PHYSICAL RESTRICTIONS SAFE (WHICH MEANS LOW LIABILITY) NEW, FAIL-PROOF TRIGGER EASY SET-UP
The Big Splash is:
Sharp Looking. Its vivid, colorful graphics draw lots of attention.
Reliable and Simple to Operate.
It uses a standard garden hose.
Easy to Transport.
Fun for Everyone. The Big Splash creates a fun event which is inclusive of all, including the disabled, seniors, children, larger people, etc. Anyone who can sit under the bucket can participate.
A Perfect Fund-Raiser. Pastors, teachers, politicians, police officers, fire fighters, coaches -- just about anyone is willing to get wet for a good cause.
Click Here For Detailed Safety Instruction
Click Here For Setup Instructions
Rental Prices
Day- $89.00 / Week- / 4 Hours-
Request a Quote